Back in Hong Kong for its fourth year on September 5 at the Hotel ICON, Learning and Development Asia is bigger and better than ever before and earned its reputation as the most influential L&D strategy event in Asia.
Pre-order your tickets now!
Contact us now for an amazing group discount
Shell Malaysia emerged as the most attractive employer in Malaysia, in Randstad's new survey of more than 4,500 employees and job-seekers between the ages of 18-65.
Oil and gas competitor Petroliam Nasional (PETRONAS) followed in second position, with the sector performing strongly despite continuing challenges faced around the world.
Nestlé and Sime Darby were ranked third and fourth, while fifth spot was taken by AirAsia.
Here's the list of Malaysia's 20 most attractive employers:
1. Shell Malaysia
2. PETRONAS
3. Nestlé
4. Sime Darby
5. AirAsia
6. Hewlett-Packard
7. SapuraKencana Petroleum
8. Genting Malaysia
9. Maybank
10. Public Bank
11. UMW Holdings
12. B.Braun Medical Industries
13. YTL Corporation
14. Berjaya Corporation
15. Maxis
16. Tenaga Nasional
17. Sony Emcs
18. Telekom Malaysia
19. IOI Corporation
20. WD Media
A total of 74% of respondents said they would like to work for Shell Malaysia, while PETRONAS had an attractiveness score of 72.48%.
Farm Mooi Fung, HR director, Shell Malaysia noted: "As one of the top employers in the country, we look forward to fueling Malaysian progress through economic and talent development."
ALSO READ: Malaysia to implement new minimum wage in July
Salary and employee benefits were voted as the most important factor for Malaysian employees looking to settle on an employer. Good work-life balance only ranked fourth on their list of priorities.
Top 5 attractiveness factors for employees:
Salary and employee benefits
Financially healthy
Long-term job security
Good work-life balance
Pleasant working atmosphere
Ryan Carroll, country director of Randstad Malaysia, commented: Companies around the world are starting to recognise the importance of their employer brand and how it affects their talent attraction and retention efforts."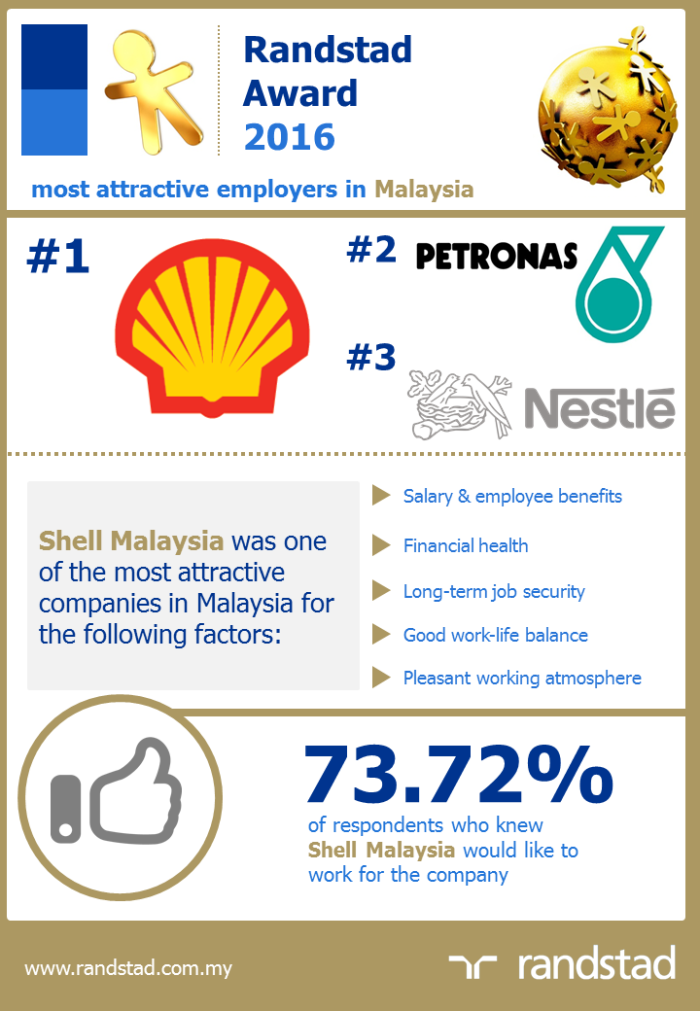 Lead image: Shutterstock