Mark your calendars as the crowd's favourite candidate and employee experience conference, Talent Experience Forum is back!
Happening only in KL, Malaysia on 5 November. Register your seat because you will be hearing top insights from C-suite and senior HR leaders from Dell, Digi, GoCar, IPG Mediabrands, Nestle, Tesco, Unilever and more.
It doesn't take a genius to know that happy employees are also productive employees. So why then, are bosses not promoting staff happiness in the best of ways?
A new Blackhawk Engagement Solutions' survey found that employee rewards and recognition may not be aligned with what actually makes employees happy and more productive.
Polling more than 1,800 employed Americans, it found only 42% of staff are happy with the rewards and recognition that their companies offer.
To make things worse, 38% of respondents reported that their employers currently offer no rewards or recognition at all.
"Gone are the days when all-expense paid trips and merchandise hold much weight to make employees happy, productive or motivated," said Rodney Mason, GVP of marketing at Blackhawk Engagement Solutions.
ALSO READ:
The state of work-life balance in Hong Kong
Singaporeans are STILL feeling unhappy
"Our research demonstrates that employees want recognition for their contributions, and rewards for exceeding expectations, putting in extra hours and working beyond their responsibilities."
When it came to the type rewards they would most prefer,  more than half (55%) employees reported that they would be happiest if offered bonuses.
However, only 36% of bosses stated they offer bonus programmes in their employees.
Likewise, while 50% of employees stated they would like recognition from their employers, only 35% of bosses provide such recognition.
"There's a conspicuous gap between the rewards employees receive as part of recognition programs, and the rewards they'd prefer to receive," the report stated.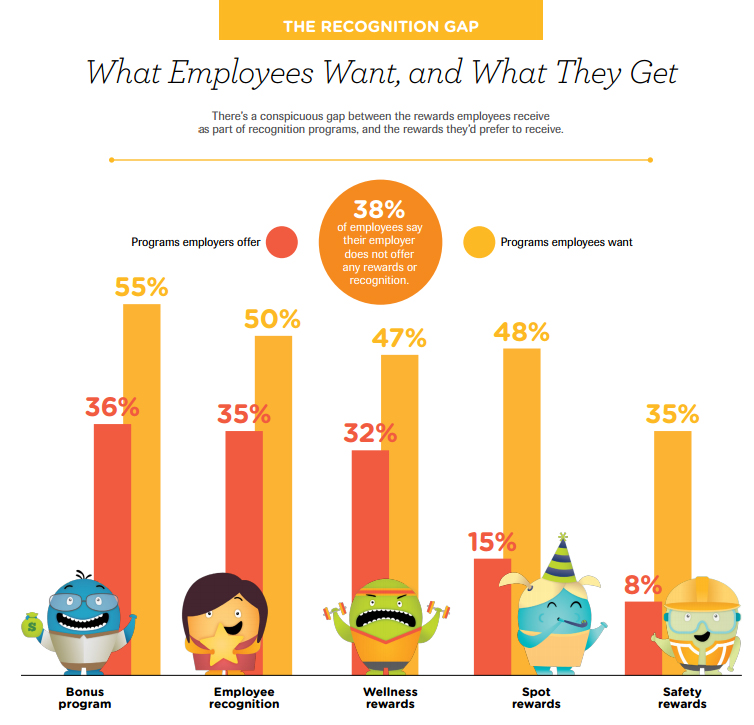 The study also delved into the occassions when employees want to be the most recognised.
A majority (82%) stated they wish to be recognised when they exceed their personal performance levels.
In addition, they also want to be recognised when receiving a promotion (79%), exceeding team performance levels (77%) and achieving a milestone for years of service (69%).
Image: Shutterstock

Human Resources Online is heading to Bangkok with the Accelerate HR conference on November 26-27.
HR leaders from Agoda, DKSH, Fonterra, FWD, Kasikornbank, Minor Food, Nissan Motor and more have already confirmed to speak.
Bring your team for additional group discounts.