HR Vendors of the Year Awards is back again for its 5th year with a fascinating gala night to celebrate the best HR vendors in Hong Kong. Winning is both an affirmation of the exceptional quality of your work in the industry and among peers. Enter Awards now
Contact us now for more details.
Google lives up to its reputation of providing fun and unconventional office spaces.
It's office in Tokyo boasts wacky interior including upside-down tables on the ceiling and eye-catching Japanese festival-inspired murals, Dezeen reported.
However, our favourite is this wall that seems to be made out of blue hair.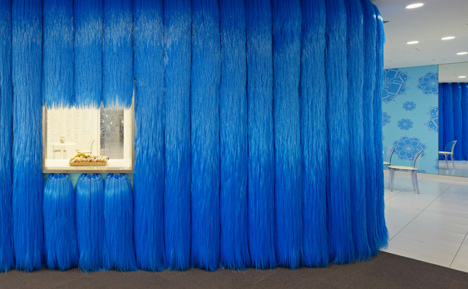 Dezeen
Don't worry, that's not human hair – it's car wash brushes.
For more cool offices, check out our Spacial Awareness album on Facebook.


Uncover and learn about complex HR innovation tools and strategies at Accelerate HR from Thailand's largest employers including Agoda, DKSH, Fonterra, FWD, Kasikornbank, Minor Food, Nissan Motor and more.
Happening in Bangkok on 26-27 November, group discounts when you bring your team.