Frozen yogurt chain llaollao Singapore has apologised after the company's staff turned away a local job candidate for not being able to speak Mandarin.
The Tripartite Alliance for Fair and Progressive Employment Practices (TAFEP) is looking into the matter, and whether there was a breach of the regulated guidelines.
The incident came to light after Karish Kaur, who approached the West Mall branch for a walk-in interview for a part-time position, posted her experience on Facebook. Upon arriving at the branch, she was led to the back entrance, where a member of staff was waiting.
"Without even asking me for my name, age, or qualifications, all she asked was (in very broken English) 'Do you speak Chinese?' to which I laughed and said 'No' and she said 'My manager is from China and only speaks Chinese. Sorry' and she was about to walk away," Kaur explained in a Facebook post.
"So I said 'So….I cant apply?" and she just shook her head and walked away."
Below is a screenshot of Kaur's post on her Facebook timeline: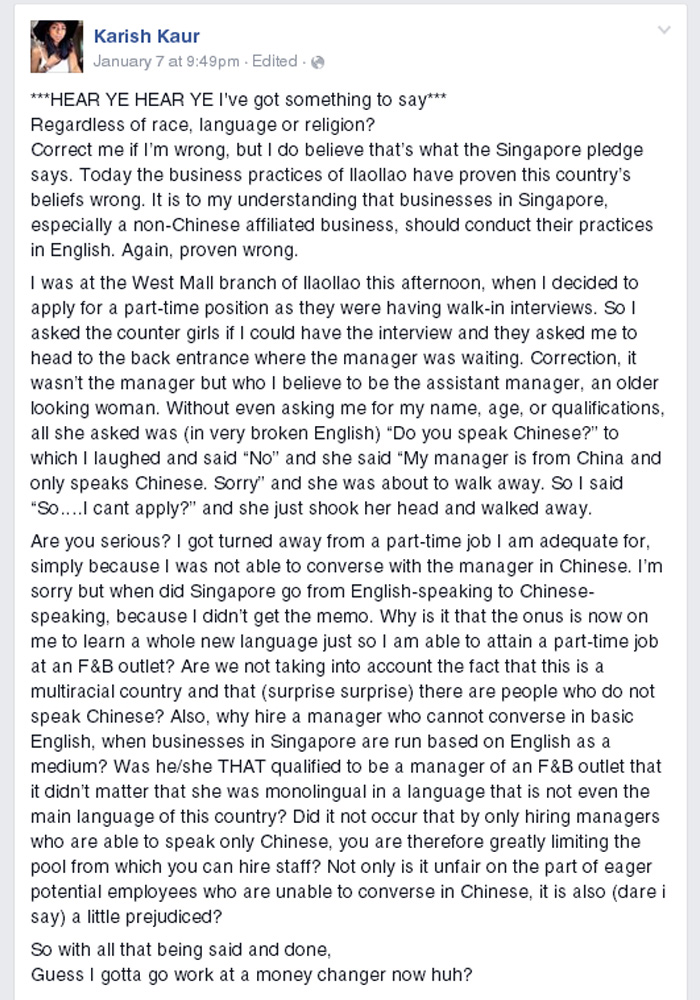 llaollao's country manager, Edwin Ferroa, responded to Kaur's post by email, admitting the mistake.
"The assistant supervisor replied her boss is a Chinese and can not speak English (well), implying that there will be a problem of communication with one of the bosses. She should not have turned away after saying that, but instead referred you to another boss, who is comfortable with English and can then assess you fairly," he wrote.
"The other boss wasn't around that day; so she should have asked you to return for the interview at another time."
He went on to state that "she should have handled the situation better and more calmly."
The employee in question, he said, is sorry and has been given a verbal warning and consultation. In addition, the franchisee has temporarily stopped taking walk-in interviews, "to ensure all staff are equally trained to a level acceptable to treat potential employees better."
Below is the full text of Ferroa's letter: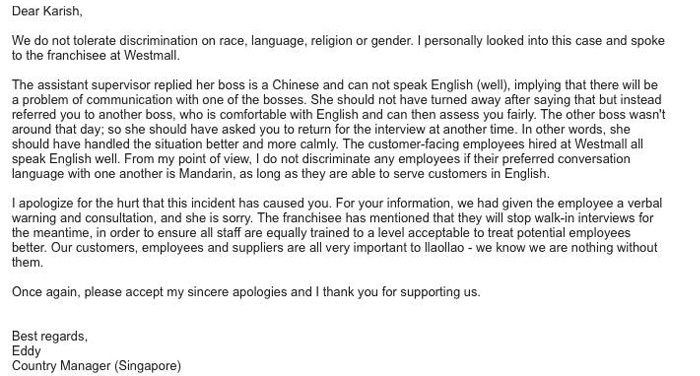 llaollao Singapore has also issued a clarification on its Facebook page, stating, "On behalf of the franchise owner of West Mall and our brand, we are deeply sorry for the insensitivity shown."
"We have been in touch with Ms. Kaur to understand more about the incident, and are seeking her kind understanding and patience in giving us a chance to turn her experience with llaollao into a positive one."
The full statement is below: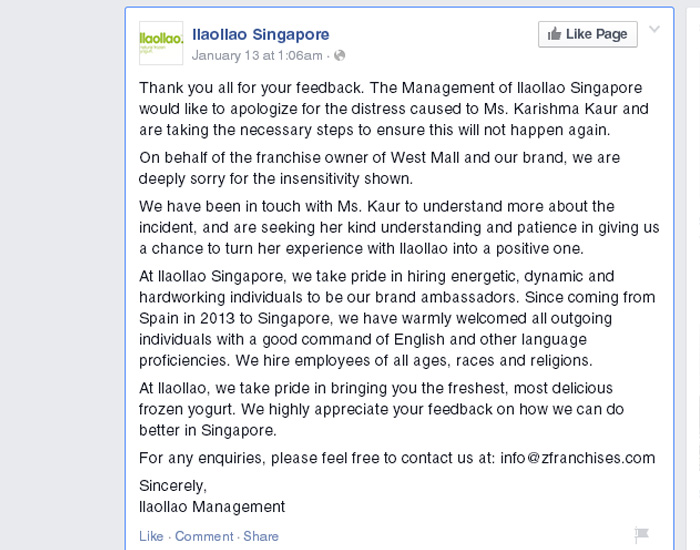 TODAY also reported TAFEP is looking further into the details of this complaint.
"According to the Tripartite Guidelines on Fair Employment Practices, if a job entails proficiency in a particular language, employers should justify the need for the requirement. In this case, there was a potential contravention of the guidelines," the paper quoted TAFEP's spokesperson as saying.
Image: Shutterstock