Last year, the corporate landscape in Singapore was abuzz with reports of local employees being unhappy with their salaries, career opportunities and work-life balance. It was no surprise, therefore, the nation's employees ranked a low score of 59 out of 100 in the National Workplace Happiness Survey.
Now, new research by Achieve Group has broken down the happiness levels of local employees by industry.
The Hiring Trends Report 1H 2015, which surveyed almost 500 local companies, found professionals in the IT and telecommunications and professional services industry had the highest number of unhappy professionals (18%).
Staff in the shipping and logistics industry followed, with 16% of respondents stating they were unhappy working in the sector.
Six out of 10 respondents in the banking and finance industry, however, said they were happy in the sector, the highest in the category.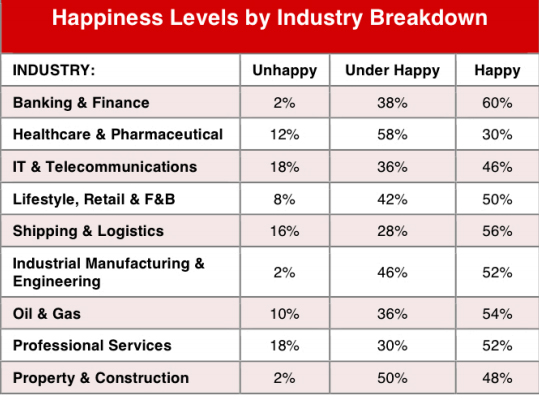 When asked why employees in Singapore were unhappy, salary remained the top cause (26%) of discontentment in the country, according to the survey.
Almost 15% of those surveyed stated they were unhappy with their boss, while 22% said a lack of career progression opportunities was causing them to be dissatisfied. A lack of recognition (17%), and office politics (11%) and) followed.
The report also delved into what HR leaders planned to do to increase employee engagement levels in the workplace.
"Respondents were given a list of HR intervention programmes and asked to select the top three they would consider implementing," the report explained.
While a quarter of respondents said they would plan to increase communication between staff and management to improve happiness levels, 22% of those surveyed said they would consider increasing career development opportunities for their staff.
Almost two out of 10(18%) also said they would consider implementing programmes to improve corporate culture, and 17% said they would align or improve compensation levels in their companies.
ALSO READ:
Singaporeans are STILL feeling unhappy
"Finally, we asked respondents to gauge what the new workplace happiness levels would be after the implementation of these HR intervention programmes," the report stated.
While 73% of companies believed their workers would report being "happy", 18% felt their employees would be "under happy", and the remaining 9% estimated their people would still be "unhappy".
Image: Shutterstock
HR Vendors of the Year Awards is back again for its 5th year with a fascinating gala night to celebrate the best HR vendors in Hong Kong. Winning is both an affirmation of the exceptional quality of your work in the industry and among peers. Enter Awards now
Contact us now for more details.