Talent Management Asia: Asia's leading HR strategy conference returns for its seventh year.
Unmissable opportunity to attend the go-to conference for HR leaders - debate key talent management challenges and share insights on future people strategy. Register now »
The labour force in Malaysia has hit 15 million people this year, according to statistics released by the Department of Statistics, Malaysia (DOSM).
According to chief statistician Datuk Seri Dr Mohd Uzir Mahidin, the working population in the third quarter of 2017 saw an increase of 69,200 employed persons and a 4,600 increase in unemployed persons, from the previous quarter.
Other notable changes for the Q3 2017, compared to the second quarter, include:
The labour force participation rate in the third quarter of this year was 67.8%
Unemployment rate has remained unchanged at 3.4% for two consecutive quarters
Females in the labour market increased by 37,900 persons to 5.76 million
Female participation in the labour market was at 73.2% (aged 25-34), 67.5% (aged 35-44), and 57.1% (aged 45-54)
Male participation in the labour market rose to 80.1%
Male participation in the labour market for ages 55-64 years was at 67.2%
One-third of employed persons were skilled workers within the occupation categories of managers, professionals, technicians and associate professionals.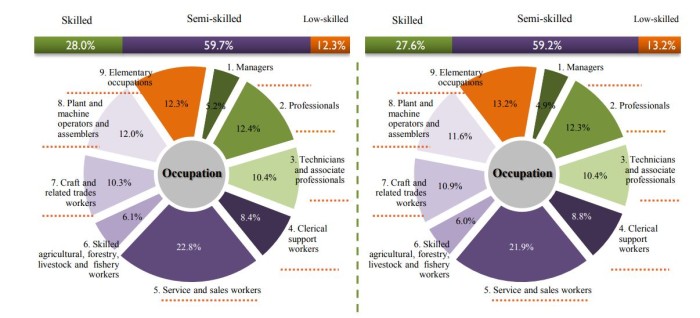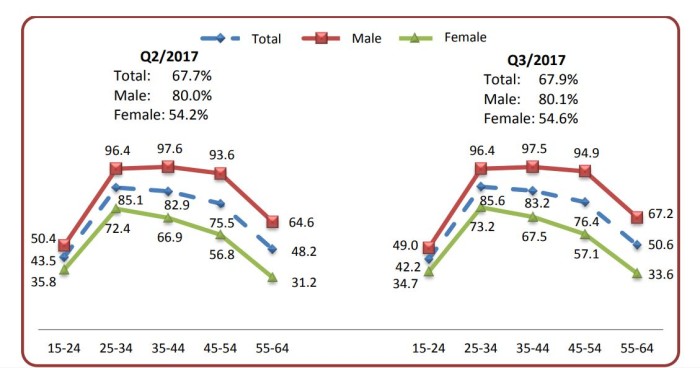 The statistics also reported that 32.1% of the working age population were outside the labour force, and were comprised of housewives, students, retired, disabled persons and those not interested to work.
Lead Photo / Department of Statistics, Malaysia
Infographics / Department of Statistics, Malaysia

Talent Management Asia: Asia's leading HR strategy conference returns for its seventh year.
Unmissable opportunity to attend the go-to conference for HR leaders - debate key talent management challenges and share insights on future people strategy. Register now »