For the 5th consecutive year, HR Distinction awards will again honour the very best in the HR industry. Winning is both an affirmation of the exceptional quality of your work in the industry and among peers. Book your gala dinner table now
Contact us now for more details.
All industries are not created equal, but the factors that make for happy employees across sectors remain uniform.
In new research by TinyHR, featuring views of over 30,000 respondents across 500 companies, employees in the construction and facilities services sector emerged as the happiest group of employees around.
Those working in consumer products and services featured second, while third spot in employee happiness was taken up by those in the technology and software sector.
While this study focused on respondents globally, the factors that drove employee happiness are likely to resonate closer home.
For instance, one-third of those surveyed said their workplace happiness was driven by their peers and colleagues. Another one-fifth said that the nature of the job and its prospects matter to them, as their happiness stemmed from being energised by their daily responsibilities.
ALSO READ: The most and least happy industries in Singapore
On the other hand, the biggest driver of dissatisfaction, landing the manufacturing industry in last spot, was having unsupportive managers. A lack of tools and resources to complete the job as well as little opportunity for professional growth were also bringing respondents down.
These emerged as the 10 happiest industries in the rankings:
1. Construction and facilities services
2. Consumer products and services
3. Technology and software
4. Telecom, energy and utilities
5. Healthcare, pharmaceuticals and biotech
6. Hospitality
7. Media and entertainment
8. Finance and insurance
9. Education
10. Business services and consulting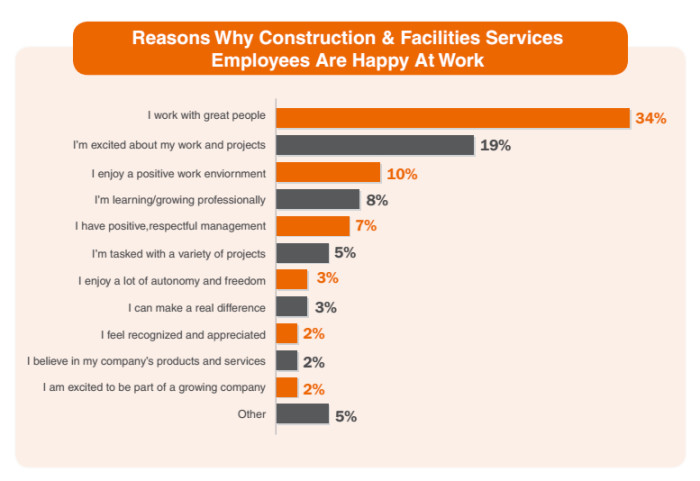 Image: Shutterstock

How do you know if your #learning is relevant for the #future?
Find out at the region's largest conference for HR and L&D practitioners, Learning & Development Asia, happening in September.
Register for early-bird savings now.