It's Monday morning (or any other morning of the week, really), and the first thing you grab after checking your phone? A hot cup of coffee.
The love for caffeine is so intense that more than one-third of employees admit they can't even get dressed for work without their first cup of coffee.
Now, a new study of 3,813 workplace executives across China, US, UK, Germany and France, finds four in five employees rate a workplace that provides beverages as the most important dimension of well-being.
More than two in three also stated drinks at the office are essential to collaboration, engagement and productivity.
Variety, taste, and brand were the three things most important to when it came to their choice of drinks.
More than half of employees expressed a wish for espresso and cappuccino machines, while a similar number asked for single-serve hot drinks, such as those in a cup or pack.
ALSO READ: The link between coffee, cortisol and creativity
However, employees in Asian and Western workplaces were split in their view of the most preferred drink in the morning – with 6 out of 10 employees observing people at work getting coffee first thing in the morning in all countries but China.
Close to half employees surveyed in China (48%) prefer getting a cup of soup as a quick meal or snack.
They are also less likely to get a cup coffee first thing in the AM (30%), compared to American respondents who are more likely to walk in with coffee purchased on the way to work (49%).
Another phenomenon less likely is associates of all levels mixing together around drink machines, as stated by 22% of respondents from China.
Overall, most respondents (62%), and significantly more in China and the US, agreed that offering a drinks solution, with a variety of preferences or flavour profiles, is becoming more important to happiness and satisfaction at work.
Another half (51%) anticipated more organisations using a company café or coffee shop to create a workplace atmosphere that attracts associates.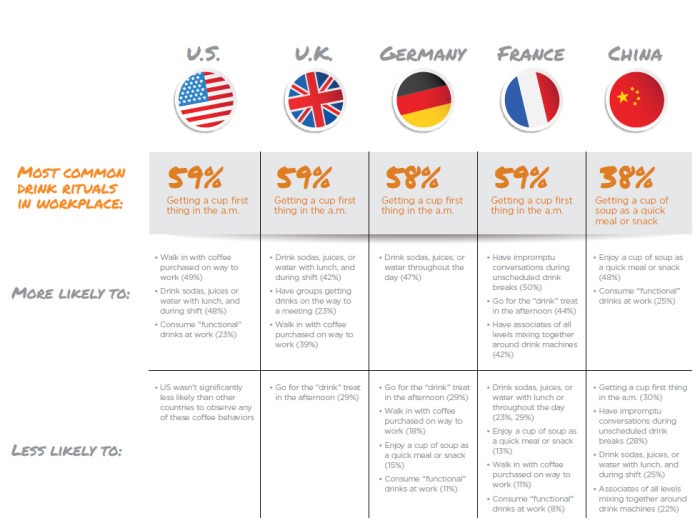 Lead image: Shutterstock
HR Vendors of the Year Awards is back again for its 5th year with a fascinating gala night to celebrate the best HR vendors in Hong Kong. Winning is both an affirmation of the exceptional quality of your work in the industry and among peers. Enter Awards now
Contact us now for more details.