HR Vendors of the Year Awards is back again for its 5th year with a fascinating gala night to celebrate the best HR vendors in Hong Kong. Winning is both an affirmation of the exceptional quality of your work in the industry and among peers. Enter Awards now
Contact us now for more details.
The Millennials are going to be the majority of the workforce in no time. While many focus on compensation and benefits or work-life balance, here is an illustration on how a well-thought out recruitment advertisement can attract your target audience while reinforcing an employer's branding.
In April 2018, McDonald's in Belgium created a series of recruitment posters called McMistakes.
Three minimalist posters were hung like any other McDonald's product poster at each branch. However, the fast-food giant mixed up its iconic products – Big Mac, french fries and McFlurry and their containers. All of the food did not end up where it usually would. The tag line was: "Students wanted. No experience needed."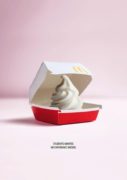 McDonald's has a philosophy regarding recruitment: "Hire on attitude, train on skills." It believes the willingness to learn is more important than resumes.
"You don't always need the biggest brand campaigns. The McMistakes is a perfect example of how a simple recruitment poster can reinforce an iconic brand," said executive creative director Jeroen Bostoen.
The story was first published by Adsoftheworld.