The competition for jobs is fierce and merciless, which is why candidates are doing odd things like mailing hiring manager money in an envelope or kissing the interviewer in order to get a job.
Lukas Yla, a marketer searching for work in San Francisco has discovered the golden rule of job search- the way to a boss's heart is through his or her stomach.
Taking advantage of Americans' passion for doughnuts, Yla, who just moved over from Lithuania, came up with the idea of delivering his resume in a box of doughnuts, according to report by New York Magazine.
To ensure his sweet treats were delivered to the right person, he posed as a delivery man to bring the box of doughnuts to the company he wanted to apply with.
"Most resumes end up in the trash. Mine- in your belly", he wrote in his resume which comes with a box of doughnuts.
Apparently, the strategy worked out brilliantly,  Yla had lined up 10 interviews so far.
One of the employers he targeted, Jessica Scorpio, founder and VP of marketing at Getaround, a car-sharing community, was certainly impressed and shared Yla's gift on twitter.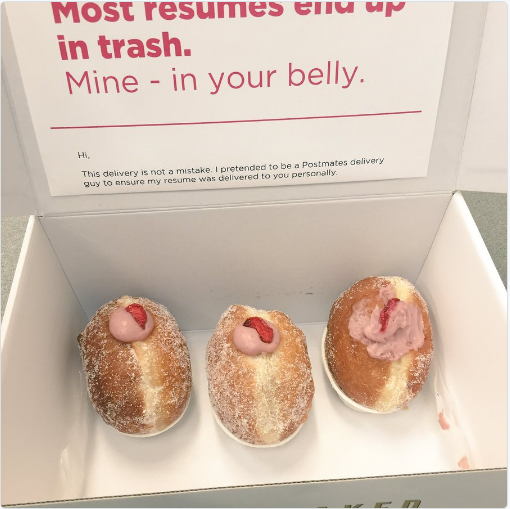 This is the photo of Yla's resume shared on Twitter by Scorpio.
There is no word on whether Yla had landed a job yet but he had certainly raise the bar for job seekers.
ALSO READ: Is this the sweetest way to say 'I quit'?
Photo/ 123RF