Small and medium-sized businesses (SMBs) in Hong Kong are lagging behind their employees' expectations to be more productive, collaborative and innovative today.
The city-state ranked 6th in Microsoft's New World of Work Index, which generated insights on the current work needs of professionals in APAC and the gaps that exist in enabling them to thrive.
Respondents were asked to rate themselves among three key principles. These include if they are supported by the right people in their offices, are empowered with the right technology and have the right tools to work remotely.
Hong Kong garnered a score of 36.67 out of 100, with 50% of respondents stating they are using four or five productivity tools such as email, and collaborating via videos.
With a score of 61.67, Indonesia led the list, followed by Philippines (61.00), and Vietnam (44.33).
Malaysia tied with Thailand at 4th place with a score of 42.33, while Singapore ranked 8th (34.67).
The Asia Pacific mean score was 40 out of 100.
Explaining the poor performance of developed economies, the report stated that employees in mature markets live in a world where advanced productivity tools are more readily available, but they do not harness online productivity tools as much as their counterparts in emerging markets.
They may also be impeded by stricter policies or legacy processes and systems at the workplace.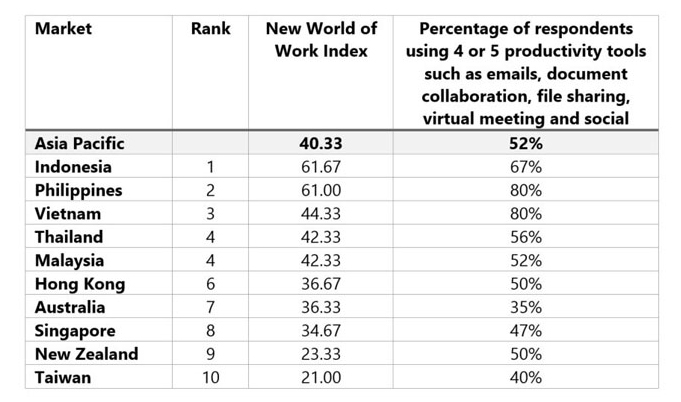 "Globalisation and technology innovations have brought the world closer and has fundamentally changed the way people live and work. SMBs make up over 90% of business in Asia and contribute significantly to economic growth," said Stanimira Koleva, general manager, small and midmarket solutions and partners group, Microsoft Asia Pacific.
ALSO READ:
Hong Kong's 10 most desired employers of 2015
Hong Kong faces second largest talent shortage in APAC
"While technology plays a key role to enable work from anywhere scenarios and higher productivity, there are other aspects such as organisational culture, policies, infrastructure, enabling collaboration or ability to break down barriers to innovation which are becoming increasingly important for an organisation to be competitive."
The report stressed that room for improvement still exists for companies to provide optimal levels of support to ensure their employees can work optimally.
For instance, it found that while 74% of employees consider themselves to be mobile workers, only 31% stated they work for SMBs that have formal work policies to support remote working.
Image: Shutterstock