Uncover and learn about complex HR innovation tools and strategies at Accelerate HR from Thailand's largest employers including Agoda, DKSH, Fonterra, FWD, Kasikornbank, Minor Food, Nissan Motor and more.
Happening in Bangkok on 26-27 November, group discounts when you bring your team.
Hong Kong's Financial Secretary, John C Tsang presented the Hong Kong 2015 – 16 Budget to the Legislative Council yesterday, releasing HK$34 billion in relief measures, to boost the local economy as well as the Government's fiscal position.
From the manpower perspective, the announcement focused on support for businesses affected by the Occupy movement, increasing Hong Kong's global competitiveness, skill building and internship support across industries.
Measures to support the ageing workforce
The Secretary looked to give impetus to further local workforce participation, in view of the ageing demographic, which he admitted was a "formidable challenge." To attract more mothers back to work, he promised to strengthen childcare services ($130 million), as well as looked to provide better retirement protection for elderly workers, with an investment of $50 billion.
He announced a slew of tax relief measures, most importantly, the reduction in salaries tax, tax under personal assessment, and profits tax by 75%, subject to a ceiling of $20,000. Child allowances have also been increased to $100,000.
In addition, companies can benefit from waived rates for two quarters, subject to a ceiling of $2,500.
Developmental activities
"The Government has devoted substantial resources to improving the quality of manpower to further diversify the economy and steer our development towards high value-added activities," said Tsang.
He unveiled a number of development initiatives across industries. This included $960 million for a pilot programme for 1,000 students per cohort to pursue designated self-financing undergraduate programmes, such as healthcare, engineering, testing and certification, and other critical industries.
There were also various measures announced to assist interns, such as 3,000 short-term internship opportunities within government departments for 2015-16, and 250 internships for university students under the ASEAN scheme launched last year.
In addition, the Government will extend the coverage of the on-the-job training allowance for middle-aged employees to encourage them to take up part-time jobs, while the Employees Retraining Board will focus on training for older persons.
Business sustainability initiatives
The Finance Secretary also marked out funds to assist the sectors most affected by the Occupy protests, known as the four pillar industries of  trading and logistics, financial services, professional and producer services, and tourism.
The support initiatives included the waiving of licence fees for travel agents, restaurants and hawkers, and hotels and guesthouses, for a period of six months, as well as an injection of HK$80 million to the Hong Kong Tourism Board.
"My key mission as Financial Secretary is to maintain a stable business environment for sustainable economic development and enable citizens to live fulfilling lives, and improve their livelihood," he explained.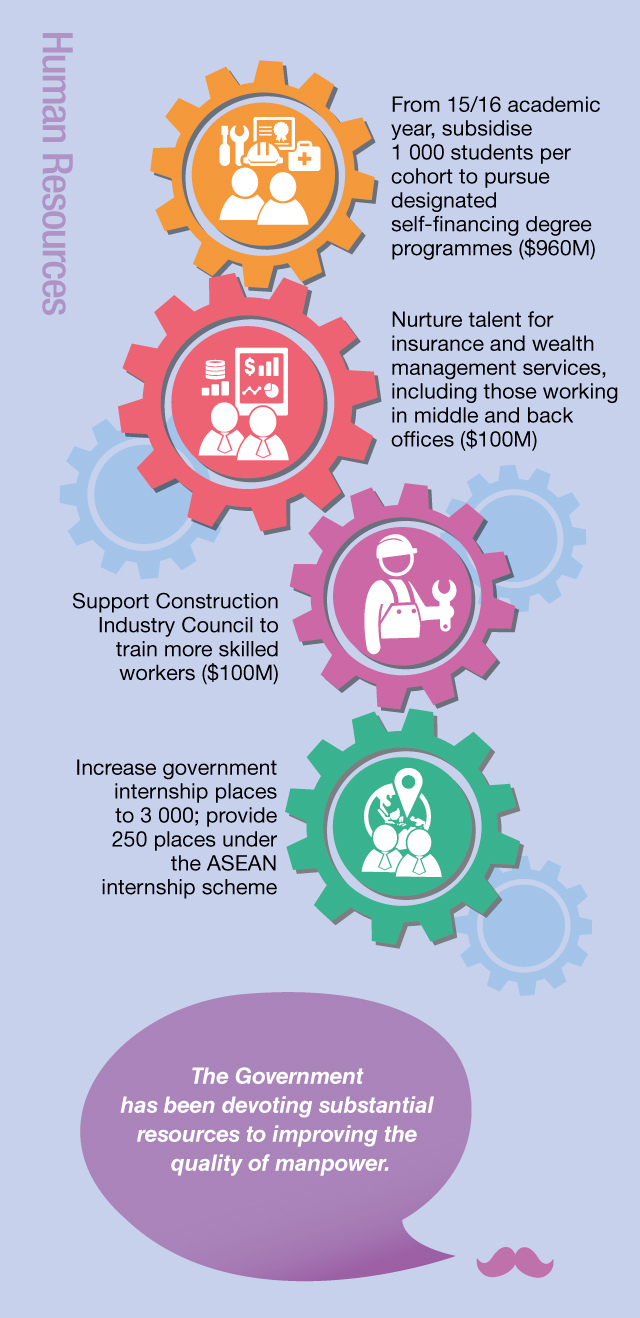 Image: Shutterstock