"The Asia Recruitment Award is the oscars of the recruitment industry. A display of the best of the best!"
Start your entries preparation early.
Open to both in-house recruitment & talent acquisition teams and recruitment solution providers.
With voluntary employee turnover on the rise, technology sector companies in Singapore, and Asia Pacific, anticipate loosening their purse strings for 2017 salary budgets.
Aon Hewitt has released new data on talent and rewards trends for the regional tech sector, via the Radford Trends Report, according to which annualised voluntary turnover rates in all major APAC markets exceeds 10%, outside of Japan and South Korea.
Here are the 12-month voluntary turnover rates across APAC tech sector:
India – 13.6%
Malaysia – 13%
Australia – 12.4%
Singapore – 11.7%
China – 10.8%
At the same time, competition for talent is heating up, as roughly two-thirds of tech firms in all major Asia Pacific markets are currently pursuing normal or aggressive hiring plans— again, India leads this trend, with 13% of companies reporting aggressive hiring plans.
Overall salary increase budgets for technology sector employers in 2017: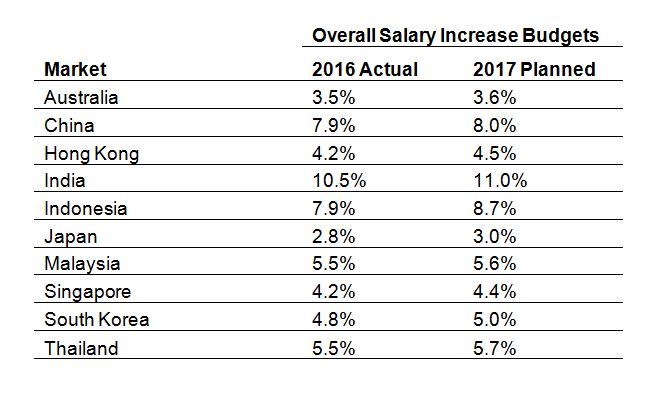 Photo / 123RF
HR Vendors of the Year Awards is back again for its 5th year with a fascinating gala night to celebrate the best HR vendors in Hong Kong. Winning is both an affirmation of the exceptional quality of your work in the industry and among peers. Enter Awards now
Contact us now for more details.