HR Vendors of the Year Awards is back again for its 5th year with a fascinating gala night to celebrate the best HR vendors in Hong Kong. Winning is both an affirmation of the exceptional quality of your work in the industry and among peers. Enter Awards now
Contact us now for more details.
Joan Wong, head, human resources, 3M Singapore sheds light on how globalisation and today's job-hopping culture will change the face of talent management in the future.
The future of HR will be a continuation of our present attempts to build high performing and diverse talent globally, with a stronger emphasis on shaping a culture of teamwork and collaboration.
This will ensure that knowledge is transferred, competencies are built and that succession planning is not limited to the senior management positions, but also extends to other roles – guaranteeing business continuity.
With globalisation and the prevalence of the "boundary less" organisation, we will also see an even greater amalgamation of talent from different ethnicities and cultures working closely together. This makes rallying around the effort on diversity and inclusion a key priority.
The HR function is likely to be leaner and meaner in most big corporations with a focus to empower every manager to become a HR manager in his or her right. The concept of employee self-service with technology integrated solutions will be the order of the day. Hence, there will be a strong need to balance the offering of low-touch and high-touch HR programmes and solutions. People skills outside the virtual world will likely be in demand more than ever.
The phenomenon of "talent will not stay beyond three years on the job" will be a constant talent challenge that companies will also have to grapple  with. Long service awards will be passé. Additionally, fixed-term employment or overseas project-based assignments with a "work-life balance clause", such as telecommuting, shorter work weeks, sabbatical leave and the like, will be the new normal.
Image: Provided
The June 2016 issue of Human Resources magazine is a special edition, bringing you interviews with 32 HR leaders, with their predictions on the future of HR.
Read The Futurist or subscribe here. Read more interviews on The Futurist here.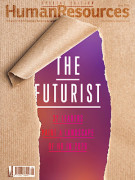 Human Resources Online is heading to Bangkok with the Accelerate HR conference on November 26-27.
HR leaders from Agoda, DKSH, Fonterra, FWD, Kasikornbank, Minor Food, Nissan Motor and more have already confirmed to speak.
Bring your team for additional group discounts.