For the 5th consecutive year, HR Distinction awards will again honour the very best in the HR industry. Winning is both an affirmation of the exceptional quality of your work in the industry and among peers. Book your gala dinner table now
Contact us now for more details.
Lisa Tay, head of HR, Asia Pacific, Johnson & Johnson, minces no words when it comes to the future of HR – HR leaders must shape their conversations around the trends that are changing their businesses.
Businesses today are increasingly affected by disruptive technology, innovation and an increasingly volatile environment. I think our external environments will continue on this trend of rapid transformation well into the future. As a business, we must be flexible to overcome these challenges.
To navigate the future, HR leaders should be curious, connected and stay abreast of the most recent thought leadership and expertise. They must connect the dots to the diverse insights and shape their conversations and strategies around the trends that are changing their businesses.
The ongoing responsibility of HR professionals to develop the leaders of the future will become even more critical. We must prepare leaders who are able to grow into increasingly complex and interconnected roles.
To successfully do this, we need to make sure we drive organisational change that is based on credible insights. Most importantly, we need to be able to inspire and activate the organisation for growth and change.
Image: Provided
The June 2016 issue of Human Resources magazine is a special edition, bringing you interviews with 32 HR leaders, with their predictions on the future of HR.
Read The Futurist or subscribe here.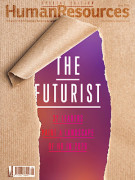 Human Resources Online is heading to Bangkok with the Accelerate HR conference on November 26-27.
HR leaders from Agoda, DKSH, Fonterra, FWD, Kasikornbank, Minor Food, Nissan Motor and more have already confirmed to speak.
Bring your team for additional group discounts.