Human Resources Online is heading to Bangkok with the Accelerate HR conference on November 26-27.
HR leaders from Agoda, DKSH, Fonterra, FWD, Kasikornbank, Minor Food, Nissan Motor and more have already confirmed to speak.
Early-bird tickets are still available.
Foo Chek Wee, group HR director, SEA and Hong Kong, Zalora, knocks on the doors of the future – and anticipates that talent fluidity will cut across geographies in a more expedited manner by 2026.
Macroeconomic forces will determine how the HR function, like all corporate functions, will evolve over time.
In 10 years, low birth rates, relative high skilled labour demand across both emerging and advanced economies, and technology democratisation, will accelerate the establishment of the global gig economy, where organisations contract with independent workers for short-term engagements.
The "uberisation" of work will happen, where the nature of work will be further compartmentalised and specialised.
Furthermore, talent fluidity will cut across geographies in a more expedited manner.
As a result, the HR function, by competition or will, will have to establish a new work paradigm and execute this paradigm in buying, building, borrowing and bouncing talented services, not talent.
Image: Provided
The June 2016 issue of Human Resources magazine is a special edition, bringing you interviews with 32 HR leaders, with their predictions on the future of HR.
Read The Futurist or subscribe here.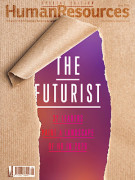 Less than 2 weeks to Learning & Development Asia. Speakers from Boeing, Marriott, Monetary Authority of Singapore, Shell, Singapore Exchange, Unilever confirmed to speak with more than 150 attendees.
Last few seats available, you don't want to miss it. Register now.