How do you know if your #learning is relevant for the #future?
Find out at the region's largest conference for HR and L&D practitioners, Learning & Development Asia, happening in September.
Register for early-bird savings now.
Linking employee health to productivity, Clodagh Logue, senior director international HR, Fitbit, finds ways for employers to help the workforce achieve balance in their working lives.
The emerging trend of employee wellness has significant implications for the workplace. Many employers have begun to think deeply about employee engagement, productivity and retention. In an increasingly flexible and "always-on" work environment, employers will want to ensure the health and productivity of their workforce by supporting them to achieve balance in their working lives.
Additionally, the emerging Millennial demographic has different expectations of their employers from previous generations. Tenure, transparency, purpose and trust will take on a new dimension in the workplace of the future.
So employers need to be thinking about creative ways to drive employee engagement and retention, particularly in the technology sector where competition for talent is strong and building leading workplace practices is common.
Image: Provided
The June 2016 issue of Human Resources magazine is a special edition, bringing you interviews with 32 HR leaders, with their predictions on the future of HR.
Read The Futurist or subscribe here.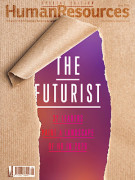 HR Vendors of the Year Awards is back again for its 5th year with a fascinating gala night to celebrate the best HR vendors in Hong Kong. Winning is both an affirmation of the exceptional quality of your work in the industry and among peers. Enter Awards now
Contact us now for more details.