Most of us agree that better communication at work significantly helps engage employees better. Why then are bosses not providing enough face-time to their employees and hearing their feedback?
According to a new survey by 15Five, 81% of employees would rather join a company that values "open communication" than one that offers great perks such as top health plans, free food, and gym memberships.
However, only 15% of these employees are currently satisfied with the quality of communication within their companies.
Polling over 1,000 full-time employees across the US, the report found a mere 15% of employees believe their managers "highly value" their feedback.
More than half (58%) of respondents, however, said managers value their feedback only moderately, slightly, or not at all.
The survey highlighted younger employees, in particular, feel "unheard" at work.
"Clearly, companies have a lot of work to do to foster open dialogue," said David Hassell, CEO of 15Five.
"If teams aren't communicating with honesty, clarity, and respect, then their companies won't thrive; finding ways to bridge generational divides, encourage honest feedback, and improve transparency will go a long way to boosting productivity, morale, and profits."
ALSO READ: Saying "thank you" is worth $3,406 to staff
When asked why they don't share feedback with bosses, 29% of Millennials said managers are "too busy to listen", while 28% said their managers "don't ask us to share these things". Meanwhile, 17% of Millennials felt their "feedback isn't taken seriously."
Differences in communication styles across generations were also identified as a factor contributing to lack of dialogue between staff and bosses at work.
Four out of 10 respondents said boomers and Gen-Xers "tend to be more guarded and less open", while 38% said Millennials are "more honest but sometimes too brash/opinionated." Interestingly, Millennials themselves were even more likely to agree with that statement.
Several older respondents also said they find it difficult to communicate with younger colleagues who prefer email or text instead of talking face-to-face.
Meanwhile, many Millennials disagreed, adding that older bosses sometimes struggle to adapt to new communication technologies like text and chat, making it difficult to stay in touch. Gen-Xers, on the other hand, expressed the most dissatisfaction with communication at work.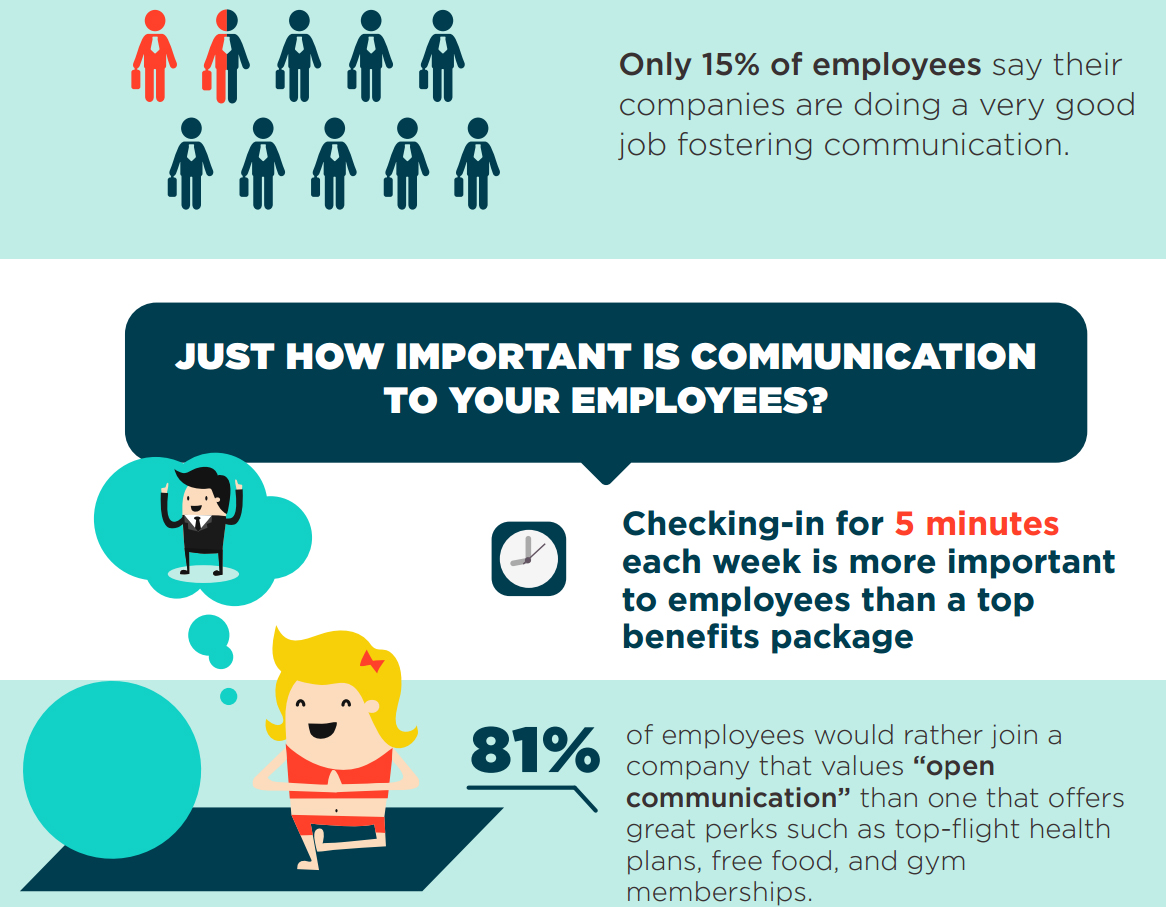 View the complete infographic here.
Image: Shutterstock

"The Asia Recruitment Award is the oscars of the recruitment industry. A display of the best of the best!"
Start your entries preparation early.
Open to both in-house recruitment & talent acquisition teams and recruitment solution providers.