Deciding where to hold the training session is often just as important as deciding which training will take place. In this annual special feature, Meghna Gupta scours the needs of learning and development professionals to identify 14 distinctive venues for corporate training across Singapore and Malaysia.
The success of a corporate training programme depends on a comfortable, accessible environment conducive to learning. Thus, the process of selection to find the right venue is a crucial  one. Sometimes the company conference room or office pantry area is fine but in most cases training is more effective when it takes place offsite at a neutral venue.
In order to conduct this search smoothly, training organisers and L&D professionals must have a clear objective in mind in terms of every aspect of the event – including amenities, technology and space needed.The ultimate goal should be to go beyond the norm and ensure a high-quality experience, in order to make an impactful impression and build long-standing partnerships with everyone involved.
The best training venues encourage communication, creativity and confidence within set budgets – and here's our compilation in identifying training venues across Singapore and Malaysia that best deliver these attributes on a consistent basis.
ACC EduHub
At ACC EduHub, you can be assured that your event is in good hands, with a dedicated facilities management office as your single point of contact and a great variety of training rooms. Located a few minutes away from Dhoby Ghaut MRT station in Singapore, your training, seminar or conference experience is guaranteed to be not only accessible, but a smooth and rewarding one as well.
This is because, whether your event has 10 or 150 people, ACC EduHub provides a one-stop customised solution for your various events. You have a choice of 10 training rooms that are completely multi-purpose, made possible through the use of amenities: from banquet chairs suited for seminars to chairs with a table flip for lectures. For a more spread out layout, you can choose a 'cluster' option, with four to six people per table, perfect for team bonding through group collaboration.
Aside from these different seating arrangements, probably the most distinctive feature of the training venue is the Harvard Suites Theatrette. With a capacity of up to 150 people, depending on the chosen setup, it is conducive for seminars, conferences and classes. Be it a sales pitch, training or informative session, trainers and participants will feel comfortable. Of course, the room, like all others, will be set up and arranged accordingly, to suit individual preferences. For example, it can be partitioned into smaller rooms to cater to more intimate sized groups.
ACC EduHub's team offers a trifecta of imperative features needed for a successful training endeavour. Firstly, they ensure reliability, with a past experience of being able to deliver consistent and genuine service. They also offer flexibility through acceding to any requests. Last but not least, they provide competitive rates, as well as corporate rates for long-term regulars.

Carlton Hotel Singapore
Carlton Hotel Singapore encourages you to rely on the expertise of their event planners and the convenience of a host of intuitive technological tools that can empower you to deliver resounding results for your meetings and events in cosmopolitan Singapore. With the completion of refurbishments in the Main Tower and Executive Wing in February of last year, the venue's new look exudes the luxury and professionalism needed for your training event. Not to forget, Carlton Hotel's ideal location in the heart of the city, with three MRT stations within walking distance, making it convenient for participants to attend the training.
Apart from sophisticated hotel facilities such as two Club Lounges, four food and beverage outlets, a swimming pool, gym, spa, hair and nail salon, Carlton Hotel Singapore also provides 13 state-of-the-art function rooms, as well as fully equipped meeting and event spaces. All function rooms are available for corporate training depending on the requirement and size of the training. Also, specifically for training events, additional amenities such as the usage of motorised screen projector and access to a sound system are included.
Conduct your event in style in the polished atmosphere of the the magnificent Empress Ballroom, a pillarless high-ceiling ballroom. The Istana Room located on levels two and three feature floor-to-ceiling windows with natural daylight and is tailored for small-scale meetings or a sit-down banquet, and can even be split into smaller rooms to meet varying needs.
An alternative option is the Esplanade Room. Be it a seminar, conducted theatre-style or an intimate wedding buffet banquet, the space can host your events in a variety of room configurations, and also opens to an outdoor area where clients can step out for a breather during break times. These all serve to create a luxurious, comfortable event that brings your employees far away from the stressful workplace environment.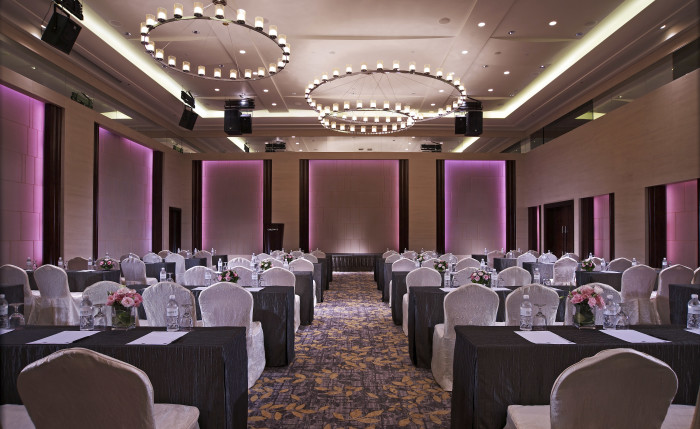 Gardens by the Bay
Gardens by the Bay, a renowned venue, offers a training experience out of this world. With a handful of distinctive spaces, the venue provides a perfect environment to learn and collaborate with others.
Nestled within the Flower Dome, the Flower Field Hall is one of the spaces, automatically engaging guests with a sensory experience that will leave them marvelling at the uniqueness of a training event held within such a space. Set amidst the periodically changing Flower Field display on one side, and a spectacular view of the Marina Bay skyline on the other, this indoor space of 1,200 square metres, captivates you with its backdrop of perpetual spring. The special LED lights that adorn the ceiling add to the enchanting setting.  
If you want a more intimate event, the Waterview room allows trainees to be enthralled by the Marina Bay view and Bay East Garden while enjoying the cosy location. At 600 square metres, the room holds up to 500 guests.
On the flipside, if you have a much larger event in mind, the Meadow will perfectly suit your preferences. As Singapore's largest outdoor garden venue, with a standing capacity of up to 30,000 people, be prepared to be enthralled by a panoramic view. Located in a premium location, about a five-minute walk from Bayfront MRT Station, Singapore's downtown cityscape provides a stunning backdrop for a mega event.
The beauty and uniqueness of these venues is accompanied by superior services and amenities. These include the basics, such as; mobile sound system, projector and projection screen. On top of that, a private hospitality desk and exquisite VIP holding room ensure you and your employees can enjoy luxury while learning and collaborating.

Lime House Asia
Established in 2013, Lime House Asia is located in a beautifully-restored heritage shophouse in Singapore's Chinatown, offering a distinctive setting and experience for your training event. A significant departure from the regular office environment, it allows for a unique and more relaxed feeling with the goal of removing employees from a 'work mode'.
Size and capacity are two attractive elements of this venue, with over 4,000 square feet of space which can accommodate up to 300 guests across two levels. Lime House Asia has a modular nature, whereby the room configuration and layout can be quickly and easily converted to allow for flexibility needed to keep groups engaged.
This feature can complement every aspect of the event, including how break sessions should be conducted. For example, the structure often proves useful as it allows attendees to break-out in different parts of the building, which thus helps to facilitate more creative interactions and group-based learning.
The training experience is accentuated by the fact that the venue houses a full service restaurant – home to the only authentic Caribbean cuisine in Singapore – and offers complimentary AV equipment. This eliminates any worry about outsourcing these components and the headache that comes with coordination.
Additionally, in the past, Lime House Asia has facilitated several unique training experiences for various clients, to energise, educate and unite their teams. An example of this was a recent global consumer brand that brought its teams from the US, Europe and Asia together for three days around a repositioning initiative. One of the highlights of this event was a cocktail making session for employees to bond and work together.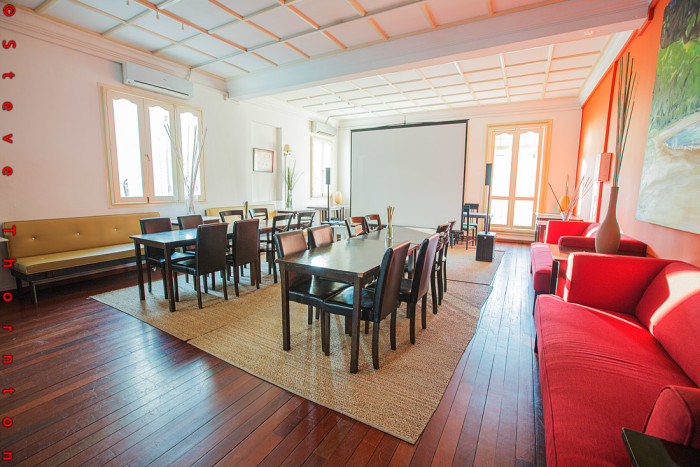 Maxwell Chambers
Set up in 2010 as Singapore's main international arbitration centre, Maxwell Chambers is a premier venue that can be tailored suitably for all business events and corporate functions, building its image as a world-class venue for training events.  
If you want to organise exclusive and bespoke events, Maxwell Chambers is an appropriate choice. It's customisable room layouts and acoustically treated rooms make it suitable for a plethora of events such as training workshops, seminars, networking events, and corporate meetings. The rooms are also fully outfitted with state-of-the-art audio-visual equipment, video and teleconferencing services, and complimentary WiFi access.
Another important feature of this venue is it's prime location right in the heart of Singapore's central business district, easily reachable by Tanjong Pagar MRT station. There is also ample parking space within the vicinity to maximise accessibility. Furthermore, its refurbished four-storey conservation building has won both local and international awards for its exquisite restoration and blend of traditional and modern designs, which include several custom-designed and fully-equipped rooms.
In the past few years, Maxwell Chambers has solidified its reputation as a preferred choice of location for local and international corporate functions, exemplified by an impressive repertoire.
Its clients include top multinational corporations, statutory boards, governmental organisations, small and medium enterprises, and even embassies. Major international conferences held annually at Maxwell Chambers include Global Competition Review (GCR) Live, and Global Arbitration Review (GAR) Live.
Besides being just a training venue provider, Maxwell Chambers also offers an extensive range of menu selections for different catering experiences, depending on individual event requirements. As a result, it stands out for its quality hospitality and exceptional customer service, making it a fitting choice for hosting your event.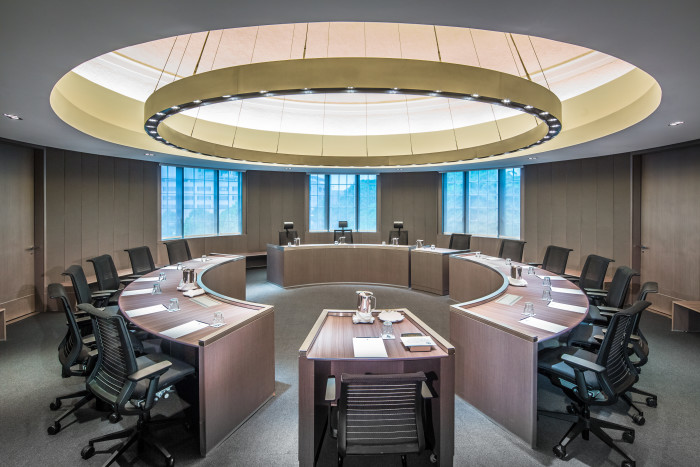 Metropolitan YMCA Singapore
Metropolitan YMCA (MYMCA) Singapore is not only known for its array of membership programmes for character development, volunteerism and service through community outreach programmes, but also its social enterprises such as their conference centre. Through these projects, they have raised funds for local communities – reminding corporates that choosing them as your training venue implies the support of a great cause.
Running hotel style function rooms at economy prices have been Metropolitan YMCA's greatest pride since it was renovated in 2012, specifically the Vine Ballroom and the Cassia, Cypress and Cedar rooms. Additionally, the Palm Room and Olive Room are currently being renovated to bring about a rejuvenated meeting experience for you and your trainees.
Located in a quiet area with lush greenery conducive for learning, yet near to town for easy accessibility, MYMCA is a five minute walk from Stevens MRT.
The venue offers complimentary WiFi service and is able to provide meals and snacks in between training, as well as a kitchen to customise a wide array of menus.  
Importantly, 100% proceeds from its hospitality services which include booking of conference rooms and meal orders are channeled to community outreach work. Therefore, booking its conference rooms and ordering food for your training enables you and your employees to give back to the community.
MYMCA's team of conference executives are flexible and their sole task is to customise the meeting packages for your event specifications. Be it a meeting, seminar, class or a private function, Metropolitan YMCA has the right room for you, at the right price.
Their reliability and dedication as a training venue can be exemplified by their past events. They have hosted religious seminars, residents' feedback session with Minister, conference with booths, inspirational drawing session, piano recital, ballet performances, engagement parties and weddings, among others.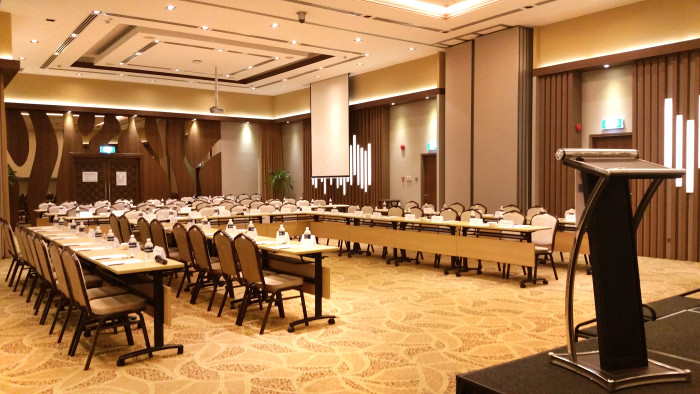 Novotel Singapore Clarke Quay
A strategic riverside location, minutes away from the Orchard Road area, and 20 minutes' drive from Changi International Airport – these are some of the location benefits in hosting your training at Novotel Singapore Clarke Quay.
Boasting of an extensive renovation in 2013 and early 2014 with upgraded MICE facilities, this venue offers two MICE dedicated floors and offers 1,200 square metres of conference space with eight meeting and function rooms, including a pillarless Phoenix Grand Ballroom which can host up to 600 delegates. Ideal for workshops, seminars or brainstorming sessions, the meeting rooms provides natural daylight and a large foyer for guest registration, coffee or lunch breaks.
The six state-of-the-art meeting rooms cater to groups of 10 to 90 people, while four of the break-out rooms provide natural daylight overlooking the luxuriant park of Fort Canning. In addition, the Executive Boardroom located on Level Seven offers a private foyer and is ideal for brainstorming or management meetings.
However, the highlight of the training experience is the upgraded Phoenix Grand ballroom, which has a maximum capacity of 380 people in classroom-style. It is perfect for conferences, company dinner and dance parties or team building events and is fully equipped with new in-built audio-visual systems and LCD projectors.
Supplementing the conference experience is a dedicated, experienced events team to oversee every element of any event from arrival to departure. The hotel is also part of the Accor loyalty "Le Club" Meeting Planner programme, which means that MICE organisers and corporate clients will be rewarded with points for any conference booking.
Another feather in its cap is the distinction as the first hotel in Singapore to achieve Green Globe Certification for its commitment to environmental and sustainable development. In line with this, it offers an innovative "Green Meeting@Novotel", allowing corporates book a Green meeting package in support of "A Tree for a Child" programme.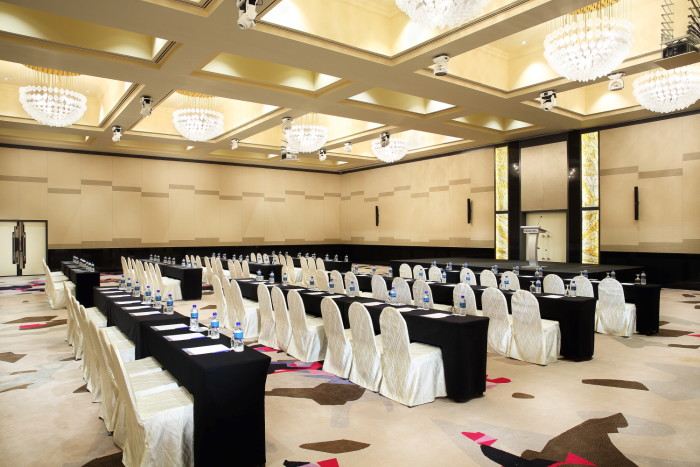 Pan Pacific Singapore
Pan Pacific Singapore, which marks its 30th anniversary this year, is dedicated to delivering quality hospitality experiences through unsurpassed service, top-notch facilities and enhanced amenities.
To ensure the perfect training experience, it offers a number of choice options, including  25 meeting venues with high-speed wireless Internet access, audio-visual equipment and many built-in liquid crystal display (LCD) screens. Room sizes range from 50 square metres to 100 square metres, and can be tailored to boardroom, theatre, classroom or 'U' shape set-up, with some even having collapsible walls to suit your expected attendance. All of these are also conducive for small group trainings and meetings with six to 32 persons.
Another highlight of this venue is the large pillarless ballroom, which has a sophisticated lighting system, changeable light colours, a preset dimming system and sophisticated audio-visual equipment to help create the perfect ambience.
What links all of these rooms is Pan Pacific's remarkable amount of flexibility and ability to transform the venue into anything you can imagine, given some of the past events. For a local theme, the training room setup was tailored with informal sofa seating, the use of batik fabric, and a kopi tiam style set-up and theme for the coffee breaks. Another instance that exemplifies this flexibility was a request for a relaxing beach theme, in which a training room was decked with benches, shells, beach hats and water guns.
Diversity is also at the heart of its services, with a choice of award-winning restaurants and bar available exclusively for private functions, depending on the training groups' agenda.
To celebrate the hotel's 30th anniversary, you can look forward to a specially tailored Extraordinary Meeting Offer with rates starting from SGD60 per guest for half-day meeting package and SGD75 per guest for full-day meeting package, with exclusive benefits such as usage of projector and projection screen and complimentary Internet access.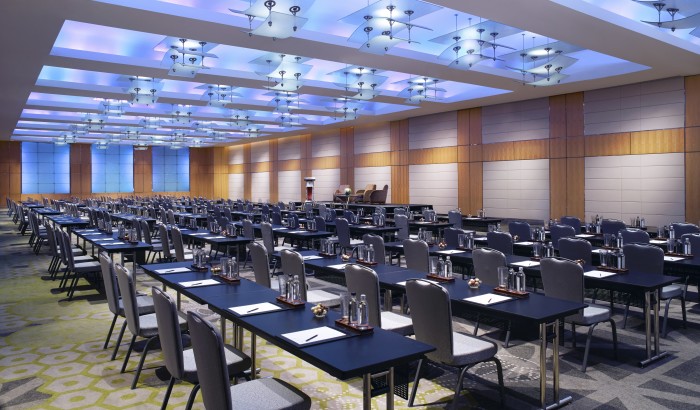 Shangri-La Hotel Singapore
If you want a training venue that is both well-equipped and beautiful, Shangri-La Hotel Singapore offers 45 years of experience as the go-to host for historic and high profile events. The hotel offers over 60,000 square feet of customisable function spaces that range from intimate function rooms starting from 80 square metres to the Island Ballroom, one of the largest hotel function spaces in Singapore. In addition, centrally located and within close proximity of Orchard Road, the venue offers guests convenient access to Singapore's main shopping and entertainment belt.
A vital attribute from a training perspective is customisability, and at Shangri-La, you have 21 flexible function-spaces to select from. Moreover, dedicated event managers take into consideration the requirements of your event before adapting the venues to best suit your needs. All function rooms include state-of-the-art audio-visual equipment with additional amenities such as satellite and teleconferencing, simultaneous translation systems, motorised projectors and screens and complimentary Wi-Fi available upon request.
Another highlight of this venue is the plethora of dynamic outdoor training spaces, spanning 15 acres, available for training sessions. With an increasing focus on healthy living and unconventional training sessions, in the past the hotel has assisted with a sunrise yoga session for a group of 30 participants, providing yoga mats and arranging for an instructor at the Banyan Deck – an outdoor venue overlooking the hotel's gardens and spanning over 80 square metres.
This year, as well as the hotel's 45th anniversary, marks the launch of The Orchid, a seven metre tall open-air orchid greenhouse, home to over 300 orchids. Activities have also been designed around the space including sketch classes, guided drone flight sessions and Dîner De Fleurs – a private dinner for two to four guests with a unique themed menu by the hotel's master chefs.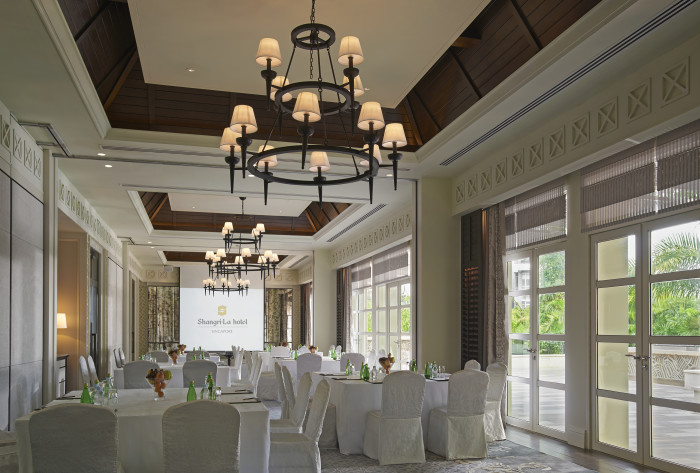 Sofitel Singapore Sentosa Resort & Spa
Sofitel Singapore Sentosa Resorts & Spa boasts a celebrations and events centre which comprises 1,300 square metres dedicated to event space. The venue can host a plethora of meeting spaces, all accentuated by natural daylight as well as a wide range of configurations that can be customisable to suit any theme, attendance size and event type. Equipped with state-of-the-art audio visual equipment and lighting system, the venue offers a tranquil resort ambience overlooking the South China Sea.
The centre is a stand-alone building away from the main resort; its private driveway brings convenience to event organisers and their guests alike. There are two ballrooms and five function rooms that can be partitioned into 15 meeting spaces to serve all event types – from large conferences to intimate gatherings.
Aside from the location and amenities of this state-of-the-art meeting venue, Sofitel Singapore Sentosa also guarantees dedicated service and value-for-money training event packages.
Since the opening of the Sofitel flagship hotel, Sofitel Singapore Sentosa has been impressing many guests, both guests from the previous The Beaufort hotel and guests of Sofitel with their "cousu main" service. To enhance the meeting experience, they can also incorporate various activities such as massages by the So SPA or even yoga. Each meeting space has a dedicated coffee corner, serving high quality coffee and tea to complement break-time delicacies.
The series of successful corporate functions that have been held here in the past can exemplify the value of the venue. For example, one company that chose Sofitel Singapore Sentosa requested a casual retreat session with its employees. Therefore the team at Sofitel replaced the standard meeting setup with beanbags, allowing for a more intimate session. A themed coffee break was also incorporated as part of event, including personalised cupcakes with the organisation's logo and other unique additions.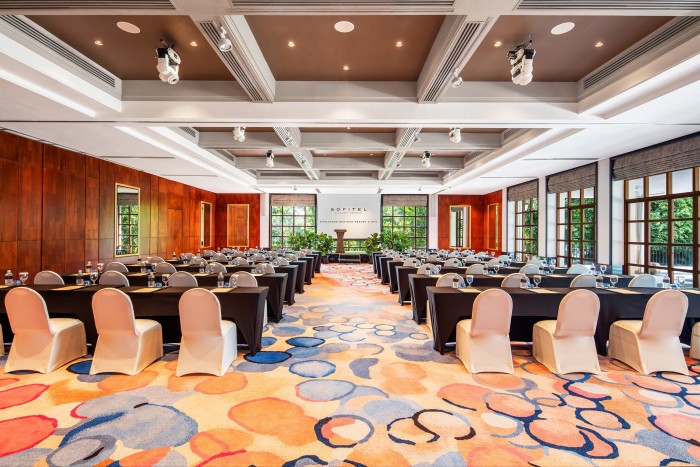 Suntec Singapore Convention & Exhibition Centre
Since inception in 1995, Suntec Singapore Convention & Exhibition Centre (the Centre) has acquired a strong reputation as one of the region's pioneering and most awarded international venues, with an impressive 20,000 events under it's belt that reinforces its position as a preferred place to meet in Asia.
The Centre is designed for flexibility and convertibility, with 42,000 square metres of space over four levels to cater to training events of different sizes and formats. Operable walls enable spaces to be converted to suit the program flow. For instance, an open space used for the morning reception can be converted into private rooms for afternoon breakout sessions.
A special feature that encapsulates the excellence of this venue is it's focus on digitisation. Kickstarting with an SGD180 million modernisation programme in 2013, the Centre has since been able to anticipate all of its clients' evolving needs around digitisation. For a powerful first impression, The Big Picture, the largest HD video wall in the world, can be customised for event branding. An Online Customer Portal also allows organisers to review the status of room bookings with views in 2D and 3D, make changes and place additional orders. This extensive network of digital touch-point screens offers training events the ability to customise directional signage and wayfinding. It can also be an effective platform for branding and displaying the latest training programs and information.
In the past, the Centre has been able to support complex live broadcast through satellite transmission. A client that held its Asia Pacific cardiovascular course here, broadcasted a number of live surgical demonstrations conducted by renowned surgeons from Singapore, China, and India. The surgeons connected with over 2,000 participants at the training session conducted at Suntec Singapore.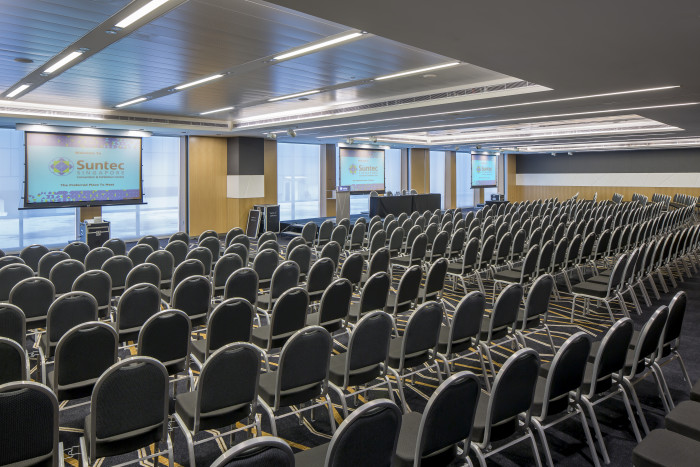 Kuala Lumpur Convention Centre
Since opening in 2005, the Kuala Lumpur Convention Centre (the Centre) has established itself as Malaysia's premier convention facility. The Centre's success can be attributed to its highly knowledgeable and professional team's successful delivery of innovative and value-add solutions that are customised for clients, in a well-maintained and world-class facility, strategically located in the heart of the Kuala Lumpur City Centre precinct.  
An innovator in corporate training venues, alongside 21 meeting rooms, it is the first venue in Malaysia to develop a solution specifically for small meetings; TenOnCall (TOC) which comprises 10 flexible meeting spaces offering a differentiated experience for short-lead bookings or just-in-time meetings. This allows clients to walk in, select their pre-set room configuration and execute a same-day meeting for 15 to 150 persons.
TOC's unique all-inclusive meeting packages include complimentary WiFi, audio-visual equipment and an AV technician on standby. These items are in addition to its signature, innovative all-day dining concept, enjoyed in an open central atrium, which forms the networking dining area of the integrated meeting space.
The Centre is also the most technologically-advanced facility in Malaysia, having recently invested RM3.1 million to upgrade AV capabilities to enable clients to seamlessly incorporate technology, such as web conferencing. One of the most innovative training sessions that have been hosted here was a LEGO Serious Play (LSP) workshop, where participants used LEGO bricks to express their thoughts by building a representation of their ideas. The LSP method can be applied to any company objective, whether it's enhancing your team chemistry or brainstorming ways to transform your current business model.
Not only is the Centre's team pushing the limits of innovative training venues, they pride themselves on their flexible mindset, by taking their client-centric focus to the next level, and helping them tailor their programmes to maximise room and space usage.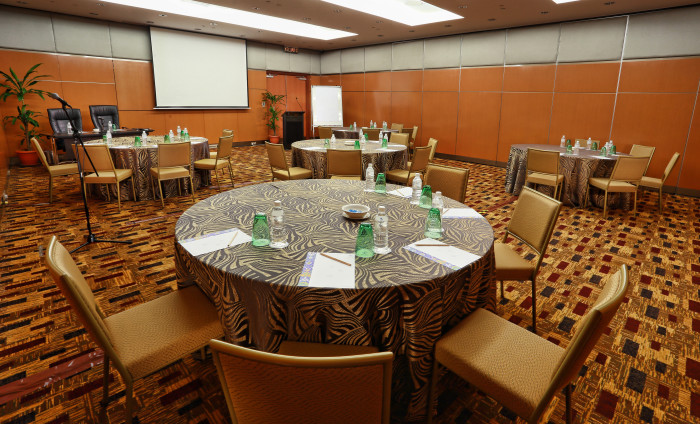 RUANG
Set up in January 2014, RUANG, Malaysia's trendy venue is a refreshing choice for your training event. Now with two locations, SS18 Subang Jaya which opened first, and Seksyen 16 Shah Alam launched in May 2015, both premises are fully equipped with a number of facilities.
However, this upgrade hasn't detracted from the two key features RUANG prides itself in as a conference vendor: bringing affordable prices and offering top-class service.
Distinct from most venues, the layout of RUANG is not your ordinary training room. With a flexible layout that is both spacious and aesthetically pleasing, there is room for a main meeting area, refreshment area and even an activity area. The activity area can be used for recreation facilities, a purpose encouraged by RUANG as it both acts as an opportunity to build cohesion among employees and employers and also helps create a relaxed ambiance that is sometimes lost in training sessions. Such amenities include table tennis and bean bags, available for hire.
To go one step further, the space has exciting chalk board walls and panels that you can scribble on, in order to facilitate the collaboration of ideas seamlessly or transform them into a backdrop for your event itself. Both the walls and the glass panels are fit for writing down ideas without an untidy aftermath.
Aside from that, the space also comes with the essentials for any training or other corporate experience; a basic PA, a projector and screen, stage, microphone, fully-equipped kitchen and flip charts, as well as a catering service for food and beverage needs. Essentially, RUANG has the exact tools to help you brainstorm and while giving you and your employees the opportunity to relax at the same time.
RUANG's team also offers advice to HR leaders or training professionals looking to ensure a smoother and long-term collaboration with corporate training venue providers: do understand the booking procedure, produce a legitimate letter of undertaking, and make payment within 90 days.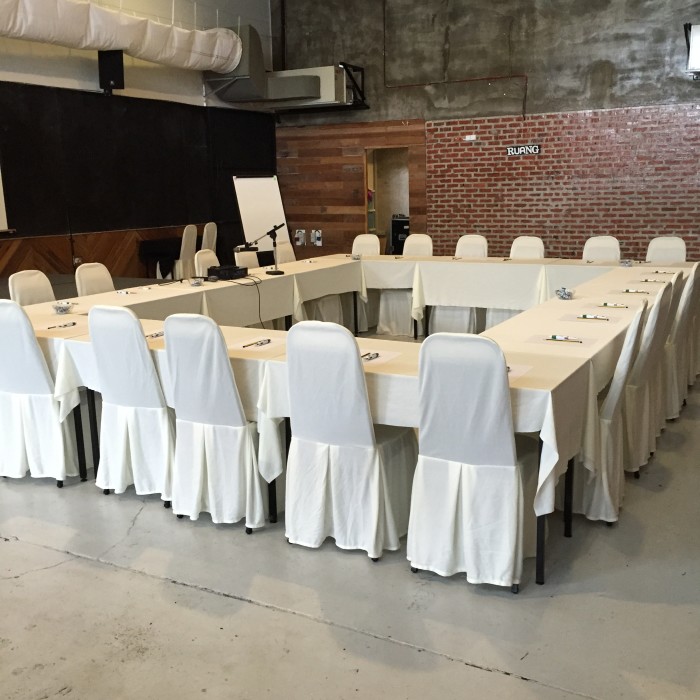 Setia City Convention Centre
Setia City Convention Centre (the Centre) symbolises quality, luxury, elegance and sustainability: perfect for a unique but successful training event in Malaysia. A project by top property developer S P Setia, the Centre is strategically located within the 240-acre green commercial hub of Setia City, effectively ensuring that your event is away from the hustle and bustle of the city center. However, that doesn't detract from its accessibility, as it is only 40 minutes from the Kuala Lumpur City Centre via the dedicated Setia Alam Interchange.
A grandeur project that combines the best in hospitality and up-to-date facilities, this elegantly crafted centre showcases the philosophy of long-term sustainability as well as a Live-Learn-Work-Play lifestyle. Not only does the venue comprise a grand ballroom with 2,000 seating capacity and eight function halls, it also boasts a unique green oval event lawn. Additionally, Setia City Convention Centre offers packages such as a Team Building package, to ensure that your event can happen with a reasonable fare.
Setia City Convention Centre is also a novel venue because, aside from its indoor meeting rooms, you also have the option to use a variety of outdoor areas. These include a gorgeous Oval Lawn and Event Lawn, all potential event spaces for training venues.
Additionally, another feature that stands out is that training venue is dedicated to environment and sustainability. The Centre is set to be certified as Klang Valley's latest addition to the Green Building Index for its green features, including rainwater harvesting, solar panel, LED lights, energy management system to track utilities consumption and preferred parking for green vehicles.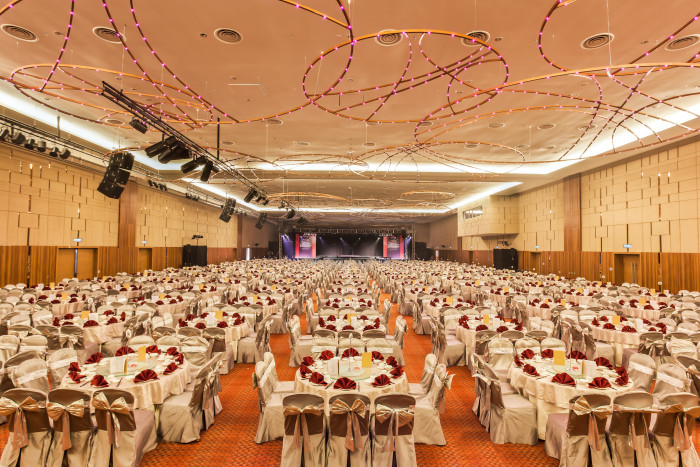 Photo / 123RF

"The Asia Recruitment Award is the oscars of the recruitment industry. A display of the best of the best!"
Start your entries preparation early.
Open to both in-house recruitment & talent acquisition teams and recruitment solution providers.