Uncover and learn about complex HR innovation tools and strategies at Accelerate HR from Thailand's largest employers including Agoda, DKSH, Fonterra, FWD, Kasikornbank, Minor Food, Nissan Motor and more.
Happening in Bangkok on 26-27 November, group discounts when you bring your team.
With more and more people living and working outside of their home country, global mobility has become a larger agenda in the manager's toolkit in the past couple of years.
Where expatriation previously referred to a senior level leader moving to another country to set up operations, today it can happen at any level, for a variety of reasons and tenures.
The assignees are often provided support from their employers, in terms of housing, education, or a lumpsum relocation allowance that helps make the shift easier.
Recent reports by Pacific Prime have helped pull out data around health insurance programmes for expats across 94 countries, in a bid to aid the decision making process.
Among this region's most popular expat destinations, Hong Kong takes the top spot, with an average cost of US $10,391 for an individual health insurance plan.
China features second, followed by Singapore at $9,050.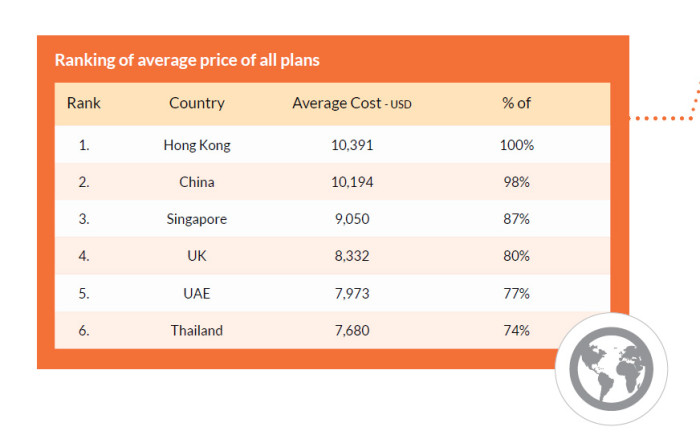 The extremely high cost of living, the increasingly costly healthcare, and the high volume of plans purchased in Hong Kong are the reasons identified in the report for it being the most costly.
"As expected, Thailand, has the lowest average costs for health insurance (USD 7,167, or 26% lower when compared with Hong Kong) among the countries involved, largely due to the lower cost of living and generally cheaper cost of healthcare.
It may be worth nothing that if the US is included, each country shifts one rank down on account of the it being the most expensive country overall, at an average cost of $21,892.
This was explained in the report: "This highlights the fact that while premiums may seem high in the top expat destinations, they are still far lower than those in the US."
ALSO READ: Cost of expatriate packages rises in Singapore
Following US as the most expensive country for expat health insurance in the world was Hong Kong, and Israel, which just edged out China, for the third position.
A tad surprisingly, Poland turned out to be the cheapest country for the cause, with an average cost of $6,687.
The reason for this, as stated in the report, was the quality and accessibility of the public system. Medical coverage is available for 98% of the people, funded via mandatory tax deductions from all employed people.
The following are the world's 10 most expensive countries for health insurance for expats:
1. US – $21,892
2. Hong Kong – $11,606
3. Israel – $10,125
4. China – $10,121
5. Singapore – $9,784
6. Canada – $9,100
7. Russia – $9,009
8. Mexico – $8,906
9. UK – $8,854
10. Dominican Republic, and Grenada – $8,743
Image: Shutterstock

Mark your calendars as the crowd's favourite candidate and employee experience conference, Talent Experience Forum is back!
Happening only in KL, Malaysia on 5 November. Register your seat because you will be hearing top insights from C-suite and senior HR leaders from Dell, Digi, GoCar, IPG Mediabrands, Nestle, Tesco, Unilever and more.