For the 5th consecutive year, HR Distinction awards will again honour the very best in the HR industry. Winning is both an affirmation of the exceptional quality of your work in the industry and among peers. Submit your entries now!
Contact us now for more details.
Welcome to the third gala awards night of HR Vendors of the Year Awards 2017, Malaysia, the regional awards programme dedicated to recognising and celebrating the best HR solutions providers in Asia. On this page, you can find tonight's results, starting with the most recent award presented.
For each category, the results are listed in the order of bronze – silver – gold.
---
Congratulations once again to all our winners and great work to all finalists!
Once more, we would like to thank our silver sponsor SIRVA for helping make this event possible.
We hope you had fun at the HR Vendors of the Year Awards 2017, Malaysia and we look forward to seeing everyone again next year.
---
Winners: Segment 4 [bronze appears first, followed by silver and gold]
Best Recruitment Firm – Senior management roles (over RM15k per month)
CAREER CHANNEL
EPS Consultants Malaysia
Bo Le Associates
Best Psychometric Testing Provider
StrengthsAsia
Thomas International
PEOPLE PSYENCE
Best HR Management System
iTalent
Ramco Systems
SAP SuccessFactors
Best Relocation Company
Santa Fe Relocation
AGS Worldwide Movers
Crown World Mobility
Best Applicant Tracking Software
SAP SuccessFactors
IBM
Accendo HR Solutions
Best Management Training Provider
K-PINTAR
People Potential
The Iclif Leadership and Governance Centre
Best Employee Engagement Consultant
Willis Towers Watson
95% Corporate Culture Consultants
Mercer
Best Overall Recruitment Firm
EPS Consultants Malaysia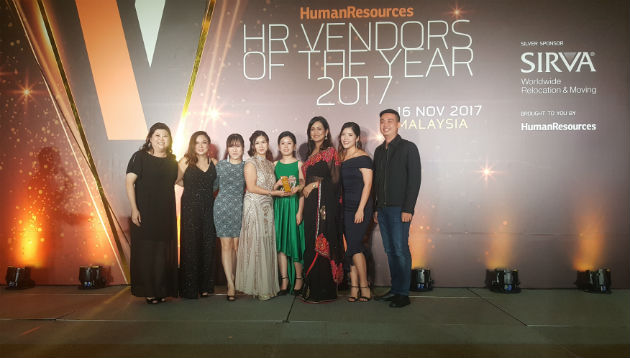 ---
Winners: Segment 3 [bronze appears first, followed by silver and gold]
Best Recruitment Firm – Mid-management roles (RM8k-RM15k per month)
Spring Professional (Malaysia)
EPS Consultants Malaysia
Search Personnel
Best Corporate Healthcare Provider
Institut Jantung Negara (IJN)
KPJ Healthcare
Corporate Outsource Services (COSSB)
Best Recruitment Process Outsourcing Partner
Randstad Sourceright
Resource Solutions
KellyOCG
Best Background Screening Provider
The Learning MatchMaker
Sterling Talent Solutions
Verity Intelligence
Best Payroll Outsourcing Partner
Payroll2U
i-HR Consulting
ADP
Best Talent Management Software
Lumesse
Unit4 Asia Pacific
iTalent
Best Employee Engagement Solution Provider
REWARDZ
95% Corporate Culture Consultants
Virgin Pulse
---
Winners: Segment 2 [bronze appears first, followed by silver and gold]
Best Recruitment Firm – Non-management roles (under RM8k per month)
QuessGlobal Malaysia
Kelly Services
EPS Consultants Malaysia
Best E-Learning and Mobile Learning Provider
Leaderonomics
Soco Sales Training
TMI Consultancy – Elementrix
Best Team Building Training Provider
Dynamic Team Holdings
95% Corporate Culture Consultants
Think Codex
Best Leadership Development Consultant
ZUBEDY
Scotwork Asia
Leaderonomics
Best Corporate Wellness Provider
C.H.I FITNESS
REWARDZ
Virgin Pulse
Best Employer Branding Consultant
TMI Consultancy
Leaderonomics
ICONIX Consulting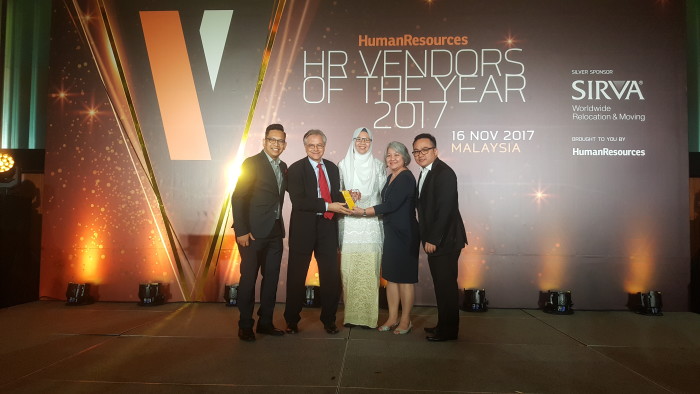 ---
Winners: Segment 1 [bronze appears first, followed by silver and gold]
Best Recruitment Portal
Spring Professional (Malaysia)
Kossle
JobStreet.com
Best Remuneration Consultant
Bo Le Associates
Willis Towers Watson
Mercer
Best Payroll Software
Unit4 Asia Pacific
ADP
Ramco Systems
Best Mobility & Orientation Consultant
Santa Fe Relocation
SIRVA Worldwide Relocation & Moving
Crown World Mobility
Best IT Training Provider
TMI Consultancy
PEOPLElogy Development
SAP SuccessFactors
Best Sales Training Provider
Soco Sales Training
Scotwork Asia
Think Codex