Employees here believe the ability "to work in stressful situations" is needed in order to secure a job in Singapore.
According to a National Day survey by jobsDB, this sentiment is shared by 95% of more than 2,000 respondents. Additionally, 94% believe the ability to work with people from different cultures is also important to securing a job locally.
Other factors Singaporeans believe are important include respect for hierarchy (80%), being attractive in the eyes of your interviewer (72%), and willingness to accept a lower salary (67%).
Once they are able to secure their employment opportunities, 84% of Singaporeans want the opportunity to progress, 83% want to maintain work-life balance and 77% want to earn higher incomes.
"According to the majority of our survey respondents, the average workplace in Singapore is believed to be a stressful one and there is a bigger emphasis from the individual on achieving work/life balance," Angeli Beltran, managing director of jobsDB Singapore and Malaysia, said.
The report also highlights the increasingly ambitious nature of Singaporean workers, but also hints workers here feel undervalued for the work they do, backing up the findings from jobsDB's Asian Consumer Market Survey from early July.
Here's the full infographic compiled by jobsDB: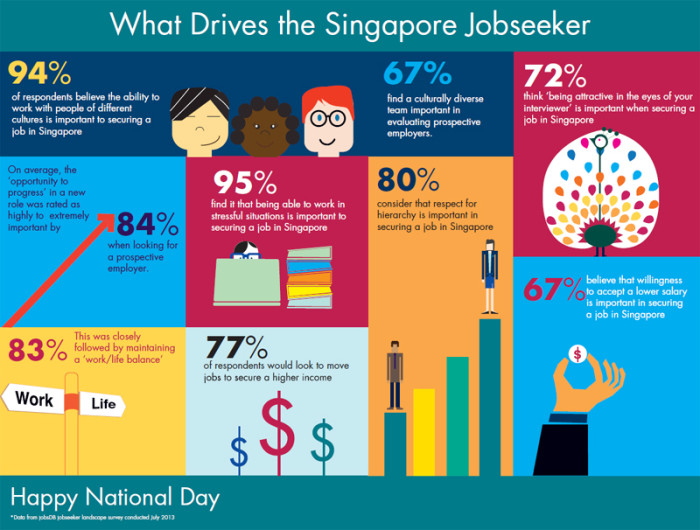 Asia's most renowned regional HR Excellence Awards is back in October in Singapore, Malaysia and Indonesia to sieve out HR's finest gems. Are you a diamond in the rough? View the categories and find out more.