With the new generation of workers being increasingly connected to their devices, organisations have to adapt to using mobile if they want to attract and retain the upcoming talent.
However, a new research from Bersin by Deloitte shows that while the majority of HR staff recognise the benefits from smartphone use in HR, many of them are still reluctant to embrace the use of mobile applications in their companies.
60% of HR professionals stated these applications help in increasing workforce productivity.
More than half (53%) admitted they also improve real-time decision making and also aid in boosting employee engagement (52%).
Despite such benefits, the research found that a majority of HR professionals do not plan on implementing smartphone support for their hiring managers.
39% of HR professionals stated they do not plan to allow candidates to apply mobile or recruit using social media networks.
Furthermore, half of HR professionals showed no indication of using mobile apps to support on-boarding or even to communicate with candidates.
ALSO READ:
Why thinking 'mobile' is crucial for managing talent
5 technology roadblocks that are killing candidate experience
"The most expressed barrier to using smartphones for HR applications is the existing HR information system or enterprise resource planning system that typically integrates financials, HR, manufacturing, supply chain and customer relationship management," inferred Katherine Jones, vice president, Human Capital Management (HCM) Technology research, Bersin by Deloitte, Deloitte Consulting LLP.
"HR professionals who are in environments with a deeply-entrenched on-premises system that does not support mobile access, often express both desire for mobile access and acceptance of the fact that they feel very unlikely to get it."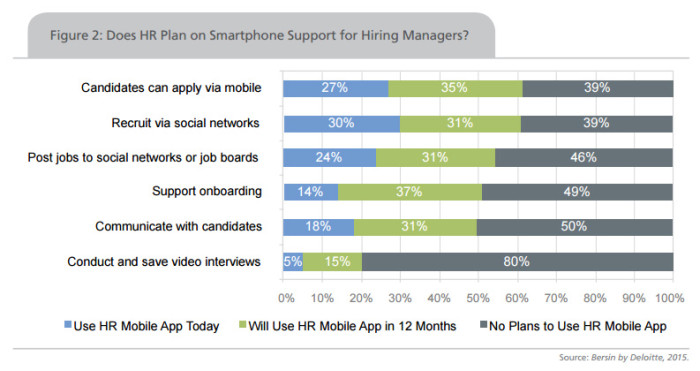 Image: Shutterstock