While professionals in Singapore are increasingly multi-tasking to achieve their daily targets, more distractions in the office are preventing them from doing their best.
That was one of the key findings from new global research from Accenture, which found that impromptu meetings or unexpected visitors and phone calls were highlighted as the biggest workplace distractions for Singapore staff (83% and 71% respectively).
These were followed by  instant messaging (32%) and text messages (28%).
While about two-thirds of professionals in Singapore (64%) agreed multi-tasking allows them to accomplish more, 42% also blamed workplace distractions for a loss in focus, and diminished team relationships.
"Digital is changing everything, and new technologies will continue to present challenges and opportunities," said Teo Lay Lim, senior managing director of Singapore and ASEAN, Accenture.
Seven out of 10 respondents from Singapore said they multi-task using such technology.
These included multi-tasking on conference calls with work emails (73%), instant messaging (41%), personal emails (29%), social media (23%) and reading news and entertainment (19%).
Those who listened actively on calls typically either needed something from the call or were required to lead, participate in or follow up on the discussion.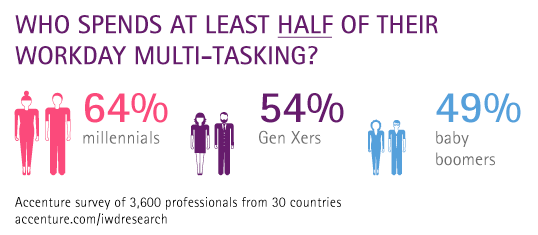 On the other hand, while professionals in Singapore considered themselves as good listeners, 71% said that it is becoming increasingly difficult to listen, compared to 64% who feel the same globally.
On a similar note, the report also found more could be done with regard to training at offices in Singapore. Even though soft skills were recognised as important leadership skills, only 35% of Singaporean respondents said their companies provided "soft skills" training.
The survey highlighted the need for bosses in the country to provide more learning opportunities at work, with 84% of Singaporeans finding on-the-job training being the most effective form of learning.
Image: Shutterstock