If you're having problems attaining and retaining top talent, consider offering them policies which help with their work-life balance.
That was the number one career goal identified by high-potential talent in Universum's first eBook of the Talent Insight Series 2015.
The report analysed the attitudes and career goals of Ivy League and Russell Group students, classifying them as "useful proxy for what we'll call a top candidate", and compared them to those of other students.
It highlighted 56% of Russell/Ivy students and 58% of all others believed work-life balance is the most important career goal.
"When our survey asked about important career goals, the top answer was not really a career goal in the literal sense of the word but rather the desire to take time away from work," the report stated.
"Employers must pay attention to this insight in order to attract top candidates – and top tech
companies have figured this out."
ALSO READ: What success means to your employees
The report added a competitive and challenging work environment was the second most important career aspiration for high-potential talent.
More than half (53%) of Russell/Ivy students said they hoped to be competitively or intellectually challenged, compared to just 37% of all others.
"We find this point to be of particular interest given the high demand for what is called knowledge workers – individuals who are paid to solve complex problems, adapt to rapidly changing information and apply creativity at work."
In fact, Russell/Ivy students were 21% more likely to seek out challenging work.
Following a good work-life balance and competitive work, leadership positions was the third most important career goal of high-potential talent.
More than four out of 10 (42%) of Russell/Ivy students saying they aim to be a leader or manager of people – 6% higher than other students.
"This aspiration for leadership is a critical difference for hiring companies, which are hungry for
talent that shows promise as future leaders," the report added.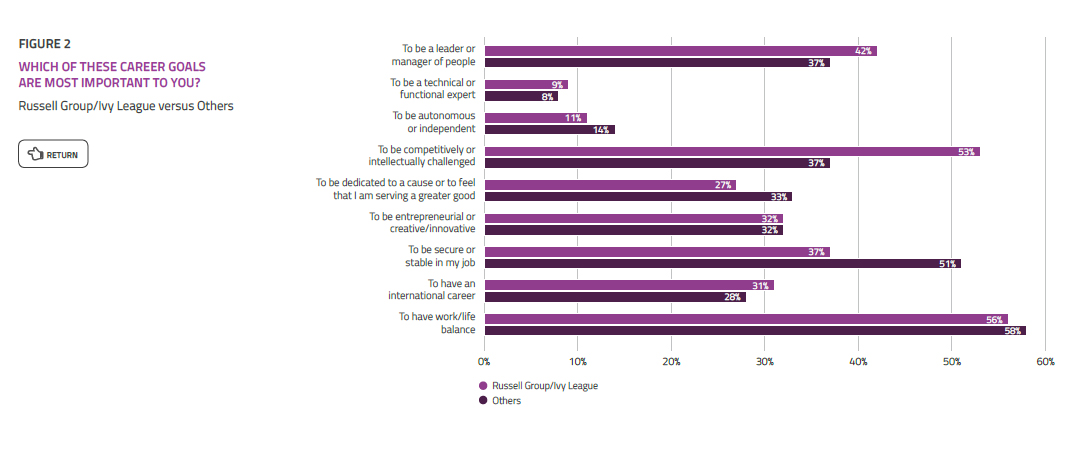 Image:Shutterstock