For the 5th consecutive year, HR Distinction awards will again honour the very best in the HR industry. Winning is both an affirmation of the exceptional quality of your work in the industry and among peers. Book your gala dinner table now
Contact us now for more details.
If you are concerned about retaining your most valuable talent during mergers or acquisitions (M&As), you might want to consider including cash bonuses as a significant element of your retention agreement.
According to a survey by Towers Watson, cash bonuses were the most common type of financial reward used in retention agreements. Polling 248 respondents from 14 different countries, including Singapore and Malaysia, the report examined the tactics applied by employers during a transaction to retain key staff, and assessed their effectiveness.
It highlighted that high-retention companies used cash bonuses in retention agreements – exclusively or with other forms of compensation – far more often (80% for senior leadership, 89% for other employees) than low-retention firms (50% and 55%, respectively).
ALSO READ: Can bonuses really increase staff retention?
These findings show there's a pressing need for companies to come up with an effective retention agreement if they wished to retain key people during often-turbulent M&As.
For instance, while 68% of respondents retained a high percentage (over 80%) of employees who signed a retention agreement over the course of the full retention period, only 43% said they retained that same percentage one year after the period expired.
The primary factor for employees who left before the end of the retention period was their concern with the changing organisational culture (48%).
"Clearly, companies should pay closer attention to the dynamics that will keep their employees for the long term," Mary Cianni, Towers Watson's global leader of M&A services, said.
"Companies involved in transactions should strive to understand the cultural implications of the deal, build employee engagement and work individually with key employees as early in the deal process as possible. These actions increase the likelihood that essential employees stay on board beyond the retention agreement period to ensure the success of the merger."
To come up with an effective retention strategy, the survey also delved into the differences in approaches between companies with high and low talent retention rates. These included identifying eligible employees for retention, and consulting senior leadership on the type of talent to keep.
"This disparity between high- and low-retention companies around meeting the objectives of the transaction underscores the critical impact that talent retention can have on deal success," Cianni said.
"High-retention companies behave differently. They excel at positioning talent as a key value driver for achieving the business goals of the deal."
Check out the infographic below for more details on the policies adopted by companies with high retention rates: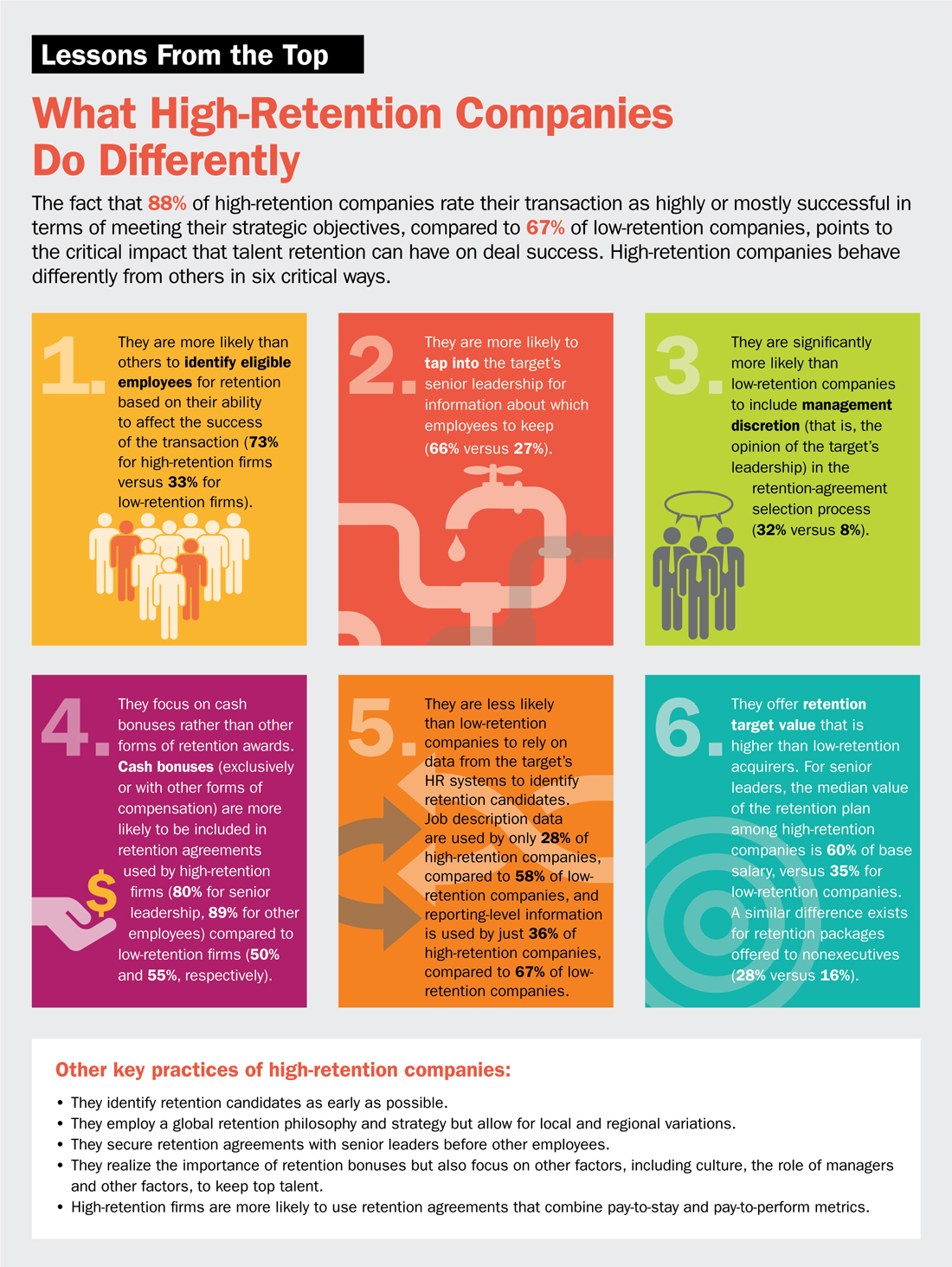 Image: Shutterstock