How do you know if your #learning is relevant for the #future?
Find out at the region's largest conference for HR and L&D practitioners, Learning & Development Asia, happening in September.
Register for early-bird savings now.
Employers refer to their employees as the company's greatest asset, yet many of them don't have a solid strategy to keep employees healthy and engaged.
To spark off ideas for HR leaders, Jerene Ang speaks with Agnes Tan, head of human resources, Asia, Lendlease, to find out how the firm's integrated health and wellbeing programme helps it engage and retain employees.
Lendlease, people are at the heart of everything they do. The company recognises that in order for people to perform at their best, it must provide the support for them to feel healthy and well.
Hence, last year, the company launched the Lendlease Health & Wellbeing framework globally to promote healthier minds, bodies, places and culture using strategies specific to each country's needs.
"A regional cross-department peer group comprising of senior management was set up to create the strategy and oversee the implementation of an integrated health & wellbeing programme to support our staff to feel healthy and well," says Agnes Tan, head of human resources, Asia, Lendlease.
To help employees have healthier minds, initiatives include a Global Mental Health First Aid certified programme, where selected staff members are trained to identify and lend a helping hand to colleagues facing personal or professional challenges.
In order to promote healthier bodies, Lendlease recently launched a unique integrated programme called RENEW – an online portal and mobile app to facilitate sustained healthy lifestyles and complementary lifestyle programmes – in Singapore.
Read the full feature: Healthy recipes for an engaged workforce
The company also offers complimentary bi-annual health screenings to all staff.
"Through the health screening results, we see that health issues like high cholesterol and high blood pressure are areas of concern," Tan says.
"Thus, we developed targeted programmes to address these areas such as workouts in the office, talks about eating healthy, cooking healthy etc."
"These offerings of fitness classes and health talks are held in the offices, providing convenience and easy access to employees to find an activity that caters to their fitness level and interests."
RENEW encourages physical activity by rewarding staff who visit the gym or an eatery that serves healthy fare with points when they check in. These points in turn can be used to redeem rewards.
"We developed targeted programmes to address these areas such as workouts in the office, talks about eating healthy, cooking healthy etc."
Additionally, to make keeping fit fun, the portal has a regularly updated leaderboard to keep track of who is at the top of the list, creating friendly competition across the business.
"We are encouraged to see strong participation across age groups in RENEW, with about 75% of staff on the programme," Tan says.
To create a healthy culture in line with its values "respect" and "trust", Lendlease introduced a flexiwork programme called Flexibility last year.
Additionally, a new leave type was introduced in line with promoting health & wellbeing called Wellbeing Leave, giving staff time to focus on their health without using their annual leave.
"In Singapore, staff members have three days of wellbeing leave a year," Tan says.
"As of June 2016, more than 64% of our employees have either utilised or booked in an application for their 2016 Wellbeing Leave."
"We believe that this helps to reduce sick days by giving them time to alleviate stress and take part in a wellbeing activity, and return to work feeling more engaged, healthy and productive."
Read the full feature: Healthy recipes for an engaged workforce
Lendlease's initiatives to create a healthier workplace include an option for standing work stations to reduce prolonged sitting – which is associated with health problems like cardiovascular disease, providing healthier options in the pantry, and a wellness room.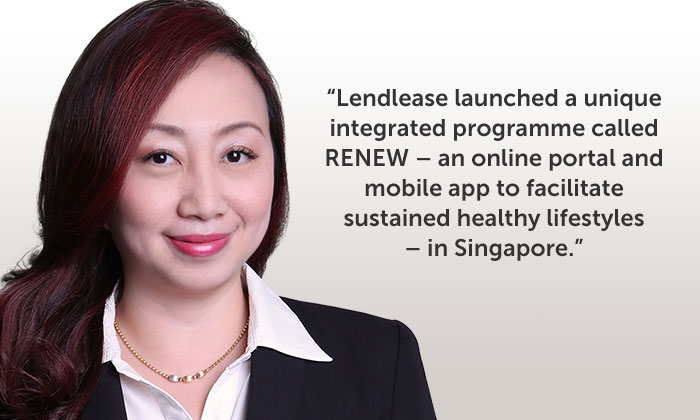 Awareness for these initiatives were raised through engagement roadshows at each of the Lendlease offices in Singapore.
"Updates on fitness activities and health talks were communicated regularly via email, newsletters, staff intranet and at employee townhall sessions to continuously engage employees," Tan adds.
Additionally, to incentivise the creation of a RENEW account, Fitbit Flex activity wristband trackers were given out to staff who signed up.
As a result of these initiatives, Lendlease has seen consistently low attrition rates – lower than the industry average.
Also, according to a survey conducted independently on behalf of Lendlease by Willis Towers Watson, the company has seen engagement scores around health and well-being related dimensions that are above the norm for global high performance companies.
Photo / iStock
For the 5th consecutive year, HR Distinction awards will again honour the very best in the HR industry. Winning is both an affirmation of the exceptional quality of your work in the industry and among peers. Book your gala dinner table now
Contact us now for more details.