Creating excitement about winning helps more significantly than instilling fear of losing in boosting productivity.
That is, at least, in the financial services industry, according to new research from PricewaterhouseCoopers (PwC).
Surveying 2,431 managers working in insurance, wealth management and banking, the report found that a 'get-tough' approach to poor performance is actually likely to create a climate of fear which ups the risks of unethical conduct.
When researchers presented situations to managers as potential losses, they were reported to experience a 15% higher level of anxiety. This led to them twice as likely to indulge in unethical behaviour.
On the other hand, when positive outcomes of the same situations were highlighted, they resulted in a 9% higher level of excitement.
"A get-tough approach to poor performance in financial services is creating a climate of fear," the report stated.
"And that risks breeding more unethical conduct, not less – exactly the opposite of what regulators, businesses and the public want. The threat of fines, bonus clawbacks and even prison won't on its own prevent further misselling and market-rigging scandals."
The report added, however, that it not entirely possible to completely do away with the penalties for bad behaviour as the systemic conduct in financial services are serious and need to be addressed.
As such, it advised bosses to focus on the good behaviour they wished to promote through such regulators.
This was especially because it found the more people believe promotions and bonuses are based on how they behave, rather than just the numbers they've achieved, the more likely they are to respond creatively in order to beat their colleagues.
In fact, when they believed their bonus was based on how they behaved, it correlated with a near‑50% increase in creative responses.
ALSO READ:
3 things leaders should know about rewards management
Companies in Singapore still can't figure what motivates employees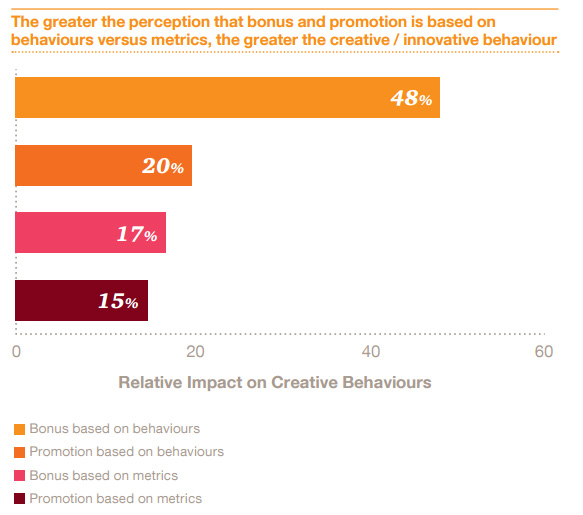 Image: Shutterstock

"The Asia Recruitment Award is the oscars of the recruitment industry. A display of the best of the best!"
Start your entries preparation early.
Open to both in-house recruitment & talent acquisition teams and recruitment solution providers.