Singaporeans might be complaining about their long working hours, but looks like that has not encouraged local bosses from offering them more paid days of leave.
The number of official vacation days have, in fact, reduced in the island nation this year, according to Expedia's annual study on vacation deprivation.
The report found Singaporeans were offered 15 days of vacation in 2015 – one less day compared to last year.
Locals, however, took the same number of vacation days (14) this year as last year.
In comparison, Hong Kong was offered one more day, 15 this year instead of 14 – all of which were used up.
Malaysians were still offered, and take, the same amount of vacation days (10 of 14).
Across the globe, the median number of paid vacation days available to workers falls slightly under 25 days annually. Collectively about 20 days are taken, leaving 20% unused.
Similar to last year's study, Asian employees were found to be the most vacation deprived, while Europeans are the world's least-deprived vacationers – workers in Germany, France, Italy, Spain, Sweden, Denmark and Finland are all offered 30 days off and easily use up most or all of those days.
In APAC, only UAE workers are offered and take nearly 30 days a year – a generous amount of paid vacation. In fact, they take almost twice as many as their peers across APAC.
On the other hand, while South Koreans are most vacation deprived workers, taking only 6 days off the 15 days they are offered. This also makes them the world's most vacation deprived.
Globally, 19% of workers cite busy work schedules for leaving unused vacation days, with the same percentage reporting the desire to "bank" vacation days to use the following year.
While 17% cite money concerns, 7% worry that using all the days will be perceived negatively by their employer – a fear most prevalent in South Korea (18%) and India (13%), and is least in Finland (1%). 
"We continue to find that Europe's attitudes towards vacation are overall much different than North American and Asian attitudes," said John Morrey, vice president and General Manager of Expedia.com.
ALSO READ:
Top tips to get organised before your vacation
Do staff really want more vacation days?
"For some workers, vacation is a right, and for others, it's a guilty pleasure. Some workers also fear that their bosses will disapprove. A healthy work-life balance is critical, not only to give workers a chance to enjoy their lives outside of the office, but also to recharge, making you more productive when you get back to work."
The report emphasised employers should work towards prioritising a healthy work-life balance for staff – especially via offering them official days of vacation.
Almost eight out of 10 (79%0 of employers believed there is a "great deal or a fair amount" of correlation between vacations and overall happiness. At the same time, 85% "somewhat or strongly agree" that they feel happier after a vacation.
However, the study also found that not all workers respect the work-life divide while on holiday with only 34% claiming to never check their work email and phone messages while on vacation.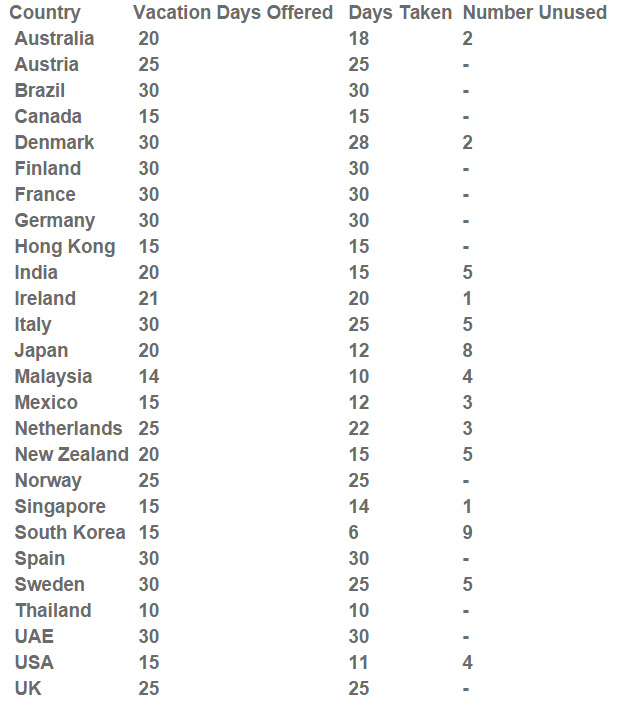 Image: Shutterstock