Human Resources Online is heading to Bangkok with the Accelerate HR conference on November 26-27.
HR leaders from Agoda, DKSH, Fonterra, FWD, Kasikornbank, Minor Food, Nissan Motor and more have already confirmed to speak.
Early-bird tickets are still available.
A company in China decided to help employees cope with stress by embarrassing them in public.
One day after China's Labour Day on May 1, a cosmetics company, which has not been identified, asked its staff to crawl around the Chongqing People's Liberation Monument as part of a training exercise, chinaSMACK reported.
The activity, which attracted a large crowd of onlookers, was interrupted when the police were called in.
"Through investigation, this was an exercise a cosmetics company gave their employees to train them to deal with pressure, and the police have already persuaded them to leave and have also criticised and educated the organisers of the company," the Chongqing Yuzhong District Public Security Sub-bureau posted on micro-blogging site Weibo.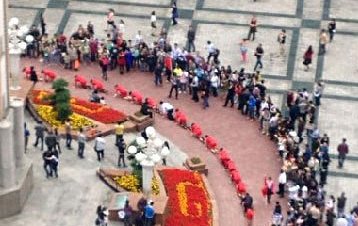 Source: chinaSMACK
It has also drawn a lot of flak among the internet community.
"This company sounds good on paper but to do this kind of thing, disregarding employee dignity, is just down right bad," a netizen wrote on sohu.com.
Another said it was "ridiculous" for employers to consider the event a "training and team building" exercise.
"Why don't these employees just refuse? Is this job really worth that much?" he asked.

Less than a month to Learning & Development Asia. Speakers from Axiata, BHP Billiton Shared Services, Fave, HRDF, Samsung confirmed to speak with more than 120 attendees.
The region's largest conference for HR and L&D practitioners - you don't want to miss it.
Last few seats available, you don't want to miss it. Register now.