A creative job seeker has created an online resume mimicking an Amazon webpage, which states he is "available for shipping anywhere in the world".
Philippe Dubost, an unemployed web manager, modelled his online resume to look like a product page from online retailer Amazon, where he listed his skills under "product details", and indicated he is available to move – or be "shipped" – overseas.
The page also includes "customer reviews", or past work testimonials, and urged recruiters to order soon as there is "only 1 left in stock".
Clicking the "add to cart" button leads to an email window where would-be employers can get in touch with Dubost.
His resume went viral almost immediately, and he claims he has received more than 100 interview requests since.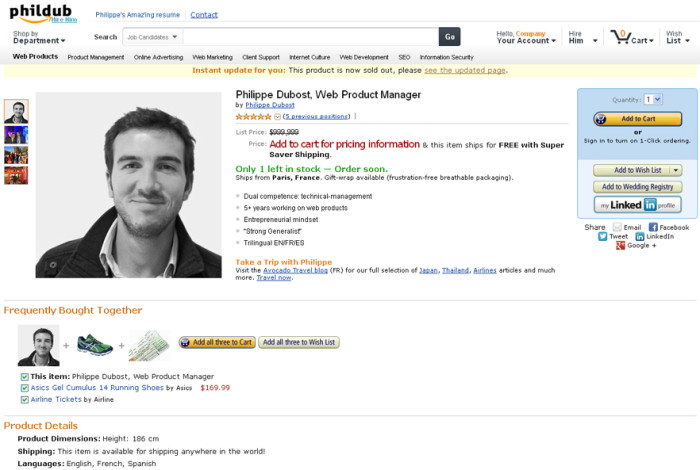 "So many awesome companies, projects, entrepreneurs, I'm starting to feel like a spoilt kid with too many toys," Dubost told The Independent. "And yes, among those, there are indeed a few opportunities that match what I'm looking for and that I'm going to pursue."
He said he chose to fashion his resume after the website because he was a "pathological Amazon addict".
"I thought it would be fun to build a small web product that would feel a little bit like a game you could interact with, like those baby toys where every button you push makes a different noise."