New Zealand, Singapore and the Philippines have emerged top three in both the global as well as Asia Pacific rankings for the Contingent Workforce Index – making them most likely to support high volumes of contingent workers cost efficiently.
Israel and India rounded off the fourth and fifth spots globally, in the fourth such report by ManpowerGroup Solutions, while the regional spots were taken by India and Hong Kong respectively.
Singapore has improved its rank due to the introduction of profit taxes which are relatively low, while India's large labour force ranks first for Availability, ensuring a strong show in the rankings.
The reports measures the Contingent Workforce Index (CWI), which tracks the relative ease of sourcing, hiring and retaining contingent workforce in 75 countries. The Index was supported with tracking of indicators such as, Availability, Cost Efficiency, Regulation and Productivity.
Significantly, Singapore ranked second in the Productivity aspect, which compares the potential productivity of a workforce based on the amount of hours an employer can pay at base pay – helped by Singapore's longer working week (eight-hour work days) and fewer annual leave days (11 days).
It also performed strongly in the Regulation indicator (third ranking), which measured how restricted the terms and practices of engaging contingent workers are, based on a standard set of regulations – given the practice of just one day's notice period and zero severance.
In terms of Availability, Singapore was ranked ninth globally, where in a total contingent workforce comprising 3.6 million, 80% are noted for their English proficiency.
Cost Efficiency, however, was an indicator where Singapore slipped in the rankings, with the average monthly wage pegged at US$3,800, and overtime premium of 50%.
Linda Teo, country manager of ManpowerGroup Singapore, noted that Singapore has performed strongly in three out of four indicators, while adding that streamlining costs in Singapore is challenging as doing business here is generally more expensive compared to the regional markets.
"As one of the most competitive economies of the world, Singapore has to ensure it is able to offer better value to justify its higher operating costs as a way of improving Cost Efficiency. Some areas Singapore could improve on are innovation and business sophistication – its overall business networks and individual companies' operations and strategies," she explained.
In her view, the services sector – especially retail organisations, food and beverage companies and call centres – is one of the main industry sectors that engage contingent workers in Singapore, usually for seasonal periods such as during holiday seasons.
Other sectors that also turn to contingent workers include IT and ICT (information and communication technology), business process outsourcing, oil and gas and financial services.
Teo added: "Companies from these sectors hire contingent workers usually on a project basis which often have defined timelines. Some organisations may even employ contingent workers on a trial basis to see how they perform before converting them to permanent positions."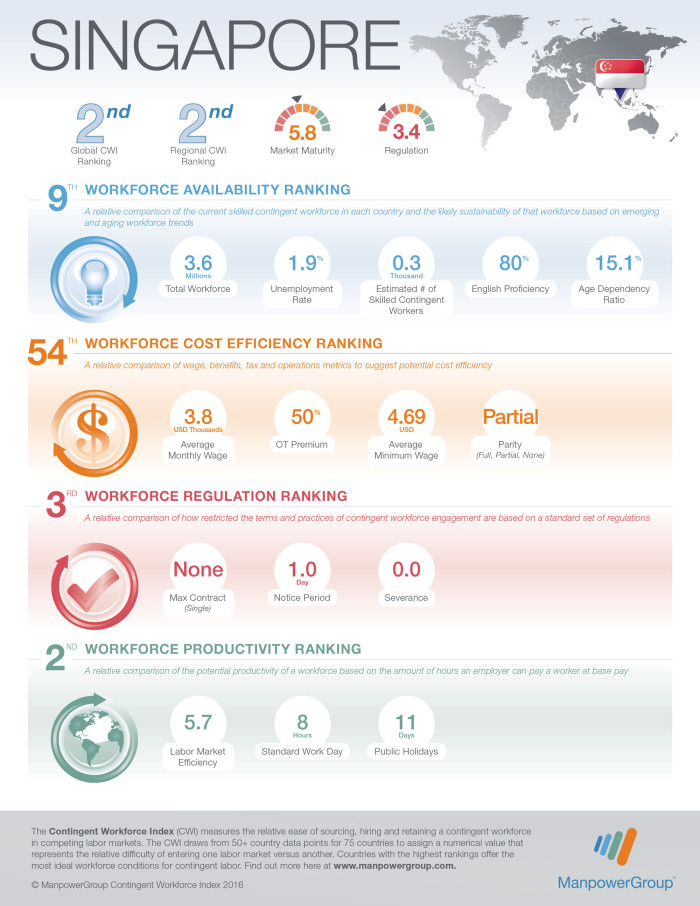 In comparison, neighbouring Malaysia was ranked 14th in the global Index, and seventh in the APAC Index for the ease of hiring and retaining a contingent workforce.
Malaysia was ranked in the four indicators of a contingent workforce as follows:
15th in Regulation – Four days of notice period and 1.7x severance.
25th in Productivity – 15 days of public holidays and eight hours of standard work day.
35th in Cost Efficiency – US$600 average monthly wage and 50% overtime premium.
38th in Availability – 13.3 million total contingent workforce, with 21% English proficiency.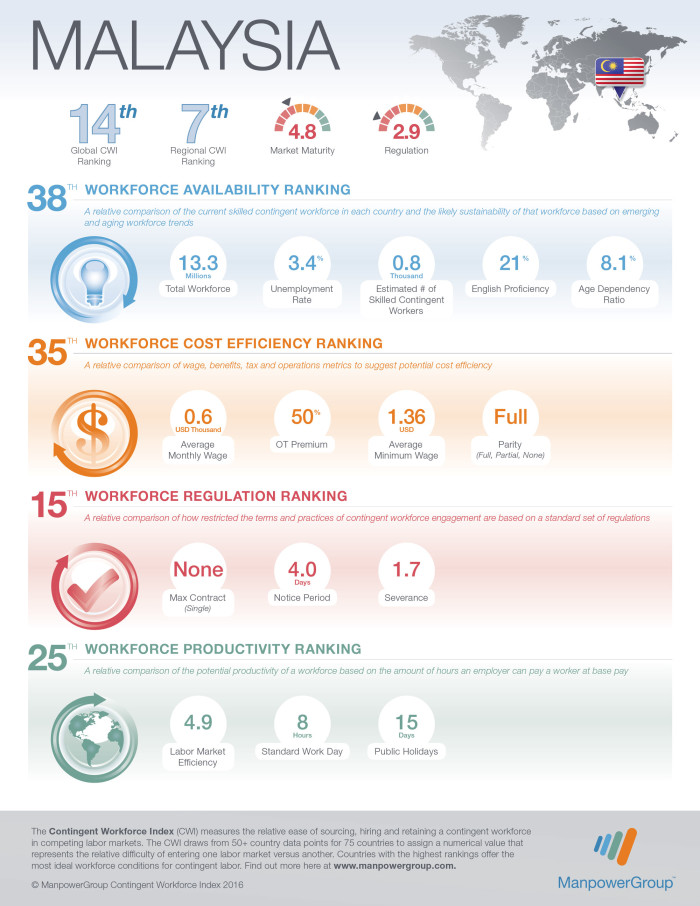 All images: ManpowerGroup Solutions

Back in Hong Kong for its fourth year on September 5 at the Hotel ICON, Learning and Development Asia is bigger and better than ever before and earned its reputation as the most influential L&D strategy event in Asia.
Book your tickets now!
Contact us now for an amazing group discount