We've published stories about weird jobs before, but these ones takes the cake.
A thread on social media site Reddit asked users: "Do you have a job that the average person doesn't know exists?" and dozens of users piped up with explanations of their weird and wonderful jobs.
Here are the best of them.
Eye bank technician
"Cutting the eyes out of dead people" is how this person describes his job.
"I surgically remove corneas and whole eyes from donors for cornea transplants and research. I think most people don't want to know about my job."
Standardised patient
It might have a boring title, but this medical job is anything but.
"I start on Friday as a standardized patient. Essentially, med students practice their bedside manner on me," says Reddit user hoboscout02.
Although, as another user points out, this isn't all a standardised patient has to go through: "They practice a lot more than bedside manner… we have one guy locally who is the go-to for DREs. He gets paid to have a class of med students locate his prostate."
Beer truck balancer
The object of a beer truck balancer is to make sure the truck carrying crates of beer is as full as possible at all times – ensuring the truck is balanced enough to drive along on its journey.
As user InspectorVII says: "Beer truck Tetris, it's a thing."
Pogo clown
Quite simply, this guy's job is to "bounce on a pogo stick in a clown outfit", as depicted in this picture he posted: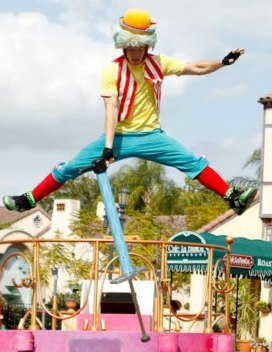 Apparently, this man was a professional 'pogoer' before he got this job, after his current boss found his video on YouTube.
YouTube channel manager
This guy basically gets paid to watch and maintain YouTube channels all day. Enough said.
Physical penetrator
Get your minds out of the gutter – this job is not as dirty as it sounds. In fact, this guy's job (officially called an 'information security consultant')involves breaking into hospitals and stealing things.
"It's referred to as a 'physical penetration test'," user The_MustardTiger says. "I routinely pick locks, crack passwords, and utilize [sic] various social engineering tactics. It's an integral part of a risk assessment."
Nautical cowboy
This might be my most favourite job title ever.
User seacowboy (appropriate name) writes: "Not my current job, but I served as a nautical cowboy over the summer and I was in charge of 600 to 1,000 pregnant cows while we shipped them to Turkey and Russia via cargo ship."
Did anyone else picture a guy dressed in a wetsuit and cowboy hat riding sharks?
Glove displayer
If you thought all department stores set up their own display of gloves and socks, think again. This woman's job involves prepping the glove, scarf and hat displays for each season.
Sound like a weird job? She thinks so, too. "Most people look at me like I'm crazy because who wakes up in the morning and goes, 'I want to work with gloves today'? Yeah, that sounds like my life goal."
Toy breaker
If you were the kid who took pleasure in breaking all your toys, then this might be your perfect job.
"I am responsible for breaking toys and write reports about how they break," says user ETA_was_here.
See the full Reddit thread here

"The Asia Recruitment Award is the oscars of the recruitment industry. A display of the best of the best!"
Start your entries preparation early.
Open to both in-house recruitment & talent acquisition teams and recruitment solution providers.