A majority of HR professionals in Hong Kong believe the retirement age has to be raised in order to overcome the challenges posed by the city's manpower shortage.
According to a survey by the Hong Kong Institute of Human Resource Management (HKIHRM), 82% of HR professionals supported the government's policy to extend the retirement age.
As one of the strategies adopted to unleash the potential of the workforce, the HKSAR Government has decided to extend the retirement age of newly hired civil servants from 60 to 65.
Out of 386 members polled, 78% agreed that this would be an effective way to lessen the pressure of the manpower shortage.
Additionally, 71% believed that the retirement age should be set at 65 years old while a further 24% thought it should be extended beyond that.
Another popular reason in favour of extending the retirement age was that employees were still in good health and can continue working longer (74%), followed by wanting "to be productive and contribute to the society" (68%).
Other reasons were "better able to choose whether to work longer than asked to retire" (66%), "not yet financially secured for retirement" (52%) as well as "work is fun and enjoy working" (44%).
"Extending the retirement age is an option which could help reduce the acute manpower shortage. It allows organisations to continue taking advantage of experienced employees," commented David Li, president of HKIHRM.
"However, companies are advised to consider if extending the retirement age would hinder the promotion of younger employees. They should also have a succession plan in place to ensure business continuity."
The survey also had 79% of respondents stating that their employers imposed a standard retirement age for their employees, where 66% had set the age of retirement at 60 years.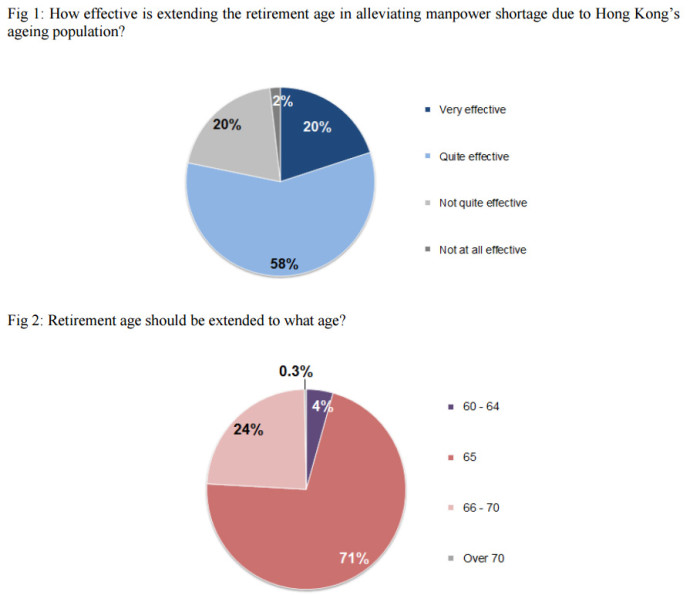 Image: Shutterstock