Ever have that nagging feeling that a colleague is trying to sabotage your career?
Looks like you might not be alone, after all.
According to research from The Creative Group,  31% of more than 400 advertising and marketing executives interviewed reported that a coworker has tried to make them look bad on the job.
So what do these executives do when faced with sabotage?
This year, 41% of them felt that the best course of action is to confront the person directly, down from 70% in 2008.
Another 40% felt that informing the person's manager or human resources is the best way to go, a dramatic increase from 10% in 2008.
Only 6% would do nothing about the situation.
"Some professionals are so competitive that they'll do just about anything to get ahead," said Diane Domeyer, executive director of The Creative Group.
"Being able to handle challenging or difficult coworkers — and maintaining healthy working relationships — is crucial for career success, particularly in environments that require a great deal of collaboration."
ALSO READ: Staff won't intervene if they see an unsafe act at work
The Creative Group pointed out three main types of sabotaging coworkers and dished out some useful advice on dealing with them.
1. Credit thieves
These are the type of staff are the ones who go around stealing ideas and grab all credit when initiatives succeed.
A written record of staff's activities and accomplishments can be helpful in managing these staff. Managers can also help out by holding frequent project status updates.
2. Belittlers
The belittlers are known for routinely tearing others down to build themselves up.
As these people usually back off when stood up to, deal with them by standing up for yourself, and refuting their criticism, making use of facts where possible.
3. Sly sharks
With a knack for leaving colleagues in the lurch by withholding important information, these might just be the worst kind of sabotagers you'll deal with.
You may not realise you're working with one until a critical deadline arrives because their tactics aren't always overt.
To avoid being left in the lurch before a critical deadline, make sure team roles and responsibilities on are clearly defined.
Insisting on regular check-in meetings are also helpful in preventing Sly Sharks from taking advantage of lapses in oversight.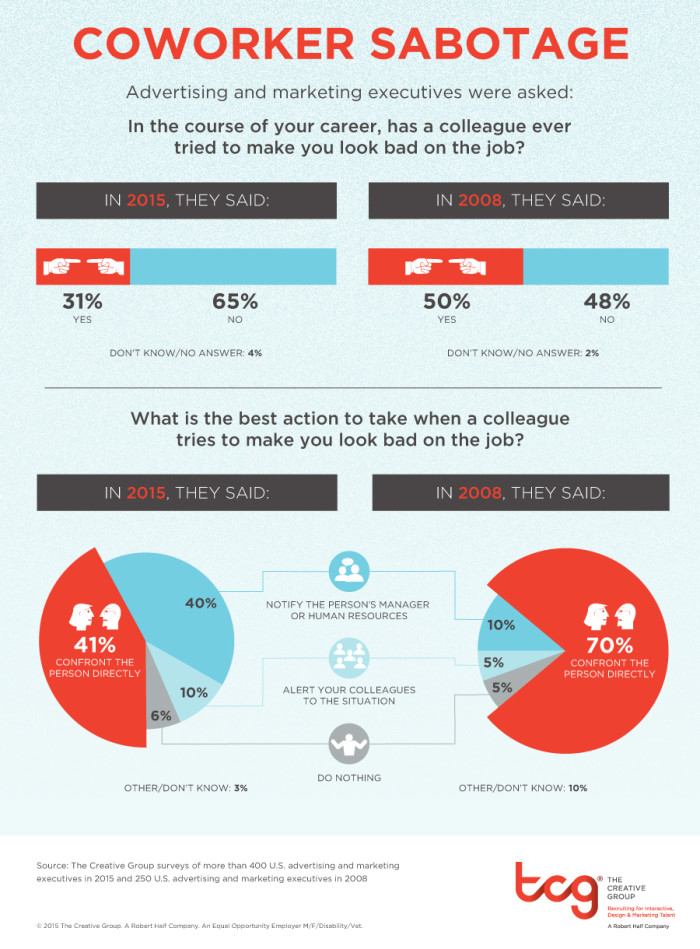 Image: Shutterstock