Mark your calendars as the crowd's favourite candidate and employee experience conference, Talent Experience Forum is back!
Happening only in KL, Malaysia on 5 November. Register your seat because you will be hearing top insights from C-suite and senior HR leaders from Dell, Digi, GoCar, IPG Mediabrands, Nestle, Tesco, Unilever and more.
We've all sat through hours of conferences and talks in the hopes of understanding how to be a better leader.
However, leadership consultant Terry Starbucker may have found all the guidance you need to be a better boss in a single poster.
On his website, Starbucker recounted an experience in 1987, when he noticed a poster hanging on his boss's wall.
Titled "A Short Course in Human Relations", the poster listed the most important words to remember when building and maintaining relationships:
A Short Course in Human Relations

The 6 most important words:
"I admit I made a mistake."
The 5 most important words:
"You did a great job!"
The 4 most important words:
"What do you think?"
The 3 most important words:
"If you please …"
The 2 most important words:
"Thank you."
The 1 most important word:
"We."
The 1 least important word:
"I."
But his boss interrupted, adding there were another seven words missing from the list: "I don't know, but I'll find out".
Starbucker said that was one leadership lesson he hasn't forgotten, and he provided the slide below to be printed so others can remember this simple and quick lesson.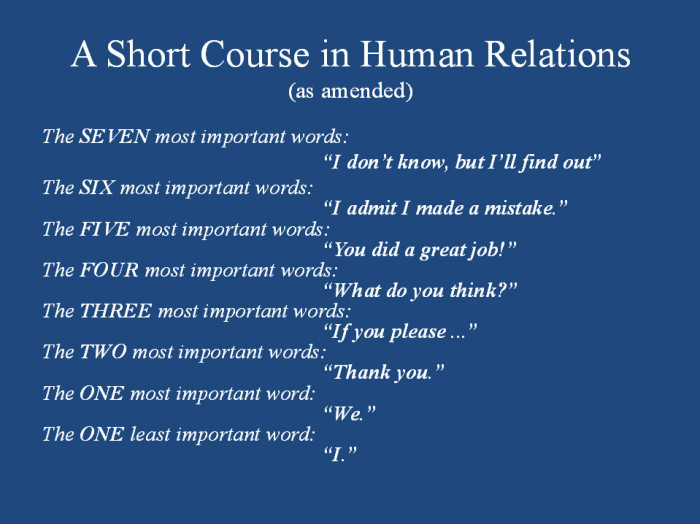 Click through for the full image