For the 5th consecutive year, HR Distinction awards will again honour the very best in the HR industry. Winning is both an affirmation of the exceptional quality of your work in the industry and among peers. Book your gala dinner table now
Contact us now for more details.
Your employees most likely wouldn't dream of leaving their company laptop unattended in a crowded restaurant, in fear of having it stolen. In reality, it's the workplace they should be worried about, with 23% of IT theft occurring at the office.
That is according to an IT Security & Laptop Theft Survey conducted by Kensington. The survey polled IT professionals across industries on the prevalence and circumstances of IT theft.
According to the survey, the four locations where IT theft takes place most often are:
In cars / transportation (25%)
In the office (23%)
In airports / hotels (15%)
In restaurants (12%)
"The survey findings show that a surprisingly high percentage of IT theft occurs in-house", Rob Humphrey, director of global product management, security, Kensington, commented in a press release. This goes against the general assumption that employees can leave their laptop unsecured at their desk worry-free.
Although it can be argued that people shouldn't be stealing stuff in the first place, it won't hurt to have a good security policy in place to prevent theft, or keep its consequences to a minimum.
"Since studies confirm that well implemented security can significantly decrease laptop theft by as much as 85%, it's important for IT personnel to consistently use physical locks for computing and mobile equipment to provide resistance to tampering and theft", Humphrey advises.
"Simple and secure device locking products can give organizations the added layer of protection they need to safeguard both their data and their mobile assets".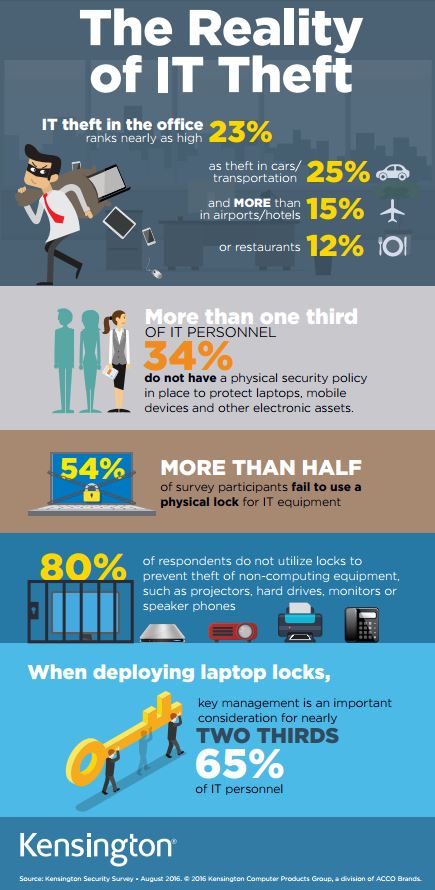 Unfortunately, even with company laptops safe and secure, companies still run the risk of having their contents stolen. A recent report on data breaches found that in 93% of cases, it took attackers minutes or less to compromise systems. 63% involved leveraging weak, default or stolen passwords.
ALSO READ: Staff who steal pens at work could commit bigger crimes
Photo / 123RF

Uncover and learn about complex HR innovation tools and strategies at Accelerate HR from Thailand's largest employers including Agoda, DKSH, Fonterra, FWD, Kasikornbank, Minor Food, Nissan Motor and more.
Happening in Bangkok on 26-27 November, group discounts when you bring your team.