Talent Management Asia: Asia's leading HR strategy conference returns for its seventh year.
Unmissable opportunity to attend the go-to conference for HR leaders - debate key talent management challenges and share insights on future people strategy. Register now »
With the rise of artificial intelligence (AI) and automation, the way businesses are planning their workforce is changing.
According to the Harvey Nash HR survey, 15% of HR leaders are already feeling the impact of AI and automation on their workforce plans, while a further 40% believe this will happen within the next two to five years.
Representing the views of 1,008 HR leaders from over 40 countries, the survey pointed out that technology as a whole is revolutionising how today's HR departments are operating.
Three in five (60%) of HR leaders are saying that the importance of technology enabled HR has increased within the past year.
The survey also revealed that over half of respondents understood that innovation for their organisation was 'very important'. Thankfully, 86% believed that HR has its own role in promoting and supporting innovation.
Lisa Wormald, director, Harvey Nash Group said: "It probably comes as no surprise that technology is seeping into the Human Resources department, but what is particularly striking is quite how many HR leaders believe that AI and automation are affecting their plans already. The good news is that HR is not only embracing this innovation, but is a key part of it."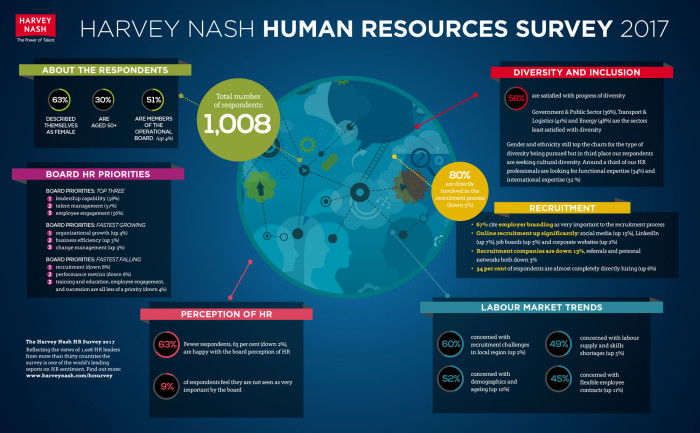 HR career and salary
In light of the global uncertainty, respondents have revealed that they are more inclined to stick with their current organisations. Only 20% planned to move in the upcoming year.
Furthermore, the survey revealed that a third of HR leaders have held their position within their organisation for more than 6 years and close to half planned to stay at their current job for more than three years.
The survey also revealed that the average salary for HR leaders survey this year has been calculated to be $116,979, with salaries are highest in Europe and the UK in particular.
Sadly, HR salaries also suffer from a gender pay gap, with men earning, on average, a quarter more than their female counterparts across all levels of the profession.
Despite this, more HR leaders are satisfied with their remuneration package this year compared to 2016. Nearly two thirds believe that they are being paid what they are worth and a further 13% consider themselves extremely satisfied and rewarded well for what they do.
Photo / iStock

"Informative, Interactive, Inspiring. The conference brings new ideas and insights about current issues in talent and HR management"
Join the seventh annual Talent Management Asia, Asia's leading HR strategy conference. Register now for early-bird savings!