It's no secret – close to half of employers in Asia (46%) are facing hiring difficulties, with the problem being the worst in Japan (86%), Taiwan (73%), and Hong Kong (69%). In Singapore, 51% of employers say it's getting harder to fill jobs.
But what roles are the hardest to fill? For the first time in 11 years of ManpowerGroup's Talent Shortage Survey, among the 42,000 employers surveyed gloablly, employers in APAC are reporting the most difficulty filling IT staff roles – up from 5th position in 2015.
The following are the 10 hardest job vacancies for employers to fill in Asia Pacific:
IT personnel – developers, programmers, database administrators, IT leaders and managers
Sales representatives – sales executives, sales advisors, retail sales people
Engineers – mechanical, electrical, and civil engineers
Skilled trades – electricians, carpenters, welders, bricklayers, plasterers, plumbers, masons, etc.
Accounting and finance staff – bookkeepers, certified accountants, financial analysts
Technicians – production, operations or maintenance technicians
Management/executive – senior and board level managers
Sales managers – team leaders for salespeople
Production/ machine operators – operators of special machinery
Researchers – roles involving R&D
The number one reason talent acquisition heads are having a tough time filling these roles is the lack of experience among the existing candidate pool (22%). Another one-fifth say candidates are asking for more pay than what is being offered (21%), an issue highlighted in Malaysia previously.
"With the number of job seekers looking for work exceeding the number of jobs available and the low job growth expected to persist, it is crucial that individuals upskill to remain relevant in the workforce," pointed out Linda Teo, country manager of ManpowerGroup Singapore.
The talent shortage spilled over to Singapore as well, where employers said the following are the 10 hardest skills to find in the job market:
Sales representatives
Engineers
Technicians
Accounting and finance staff
Drivers
Skilled trades
Project managers
Teachers
Labourers
Production and machine operators
Most employers in Asia Pacific, including in Singapore, are coping with the recruitment puzzle by opting for more training and development opportunities for existing employees (52%).
Close to half have given in to candidate demands and are offering higher salary packages to recruits (47%), while more than one in three (36%) are opting to look outside of the traditional talent pool.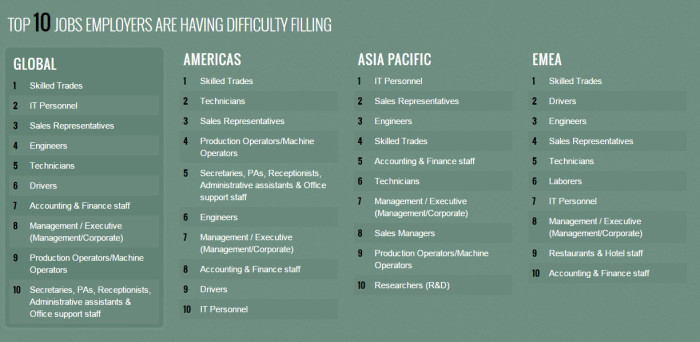 Lead photo / 123RF