Don't miss the opportunity to shout about your successes in recruitment and talent acquisition - the Asia Recruitment Awards is
the only regional awards to celebrate the best in-house teams and recruitment solution providers.
Entries open until 22 February 2019! Enter your entries now »
It's common knowledge that you don't get a second chance to make a first impression.
When it comes to jobs, ideally the probation period – typically a full three months – is when new hires have a chance to prove themselves and make a first impression on employers.
However, a survey by Robert Half Finance & Accounting found in reality, new hires only get about one month, to less than three months to prove themselves.
Polling 2,200 chief financial officers (CFOs), the survey found that 54% only give their new hires a time span of one to less than three months to prove themselves.
Shockingly, 9% even expect their new employees to make their mark in less than a month.
Thankfully, about a third are of the opinion that new employees should have between three months to less than a year to showcase their skills while a very generous handful (4%) felt that new employees can take as long as they need to make an impact.
How much time would you give a new employee to prove themselves? Let us know in the comments below.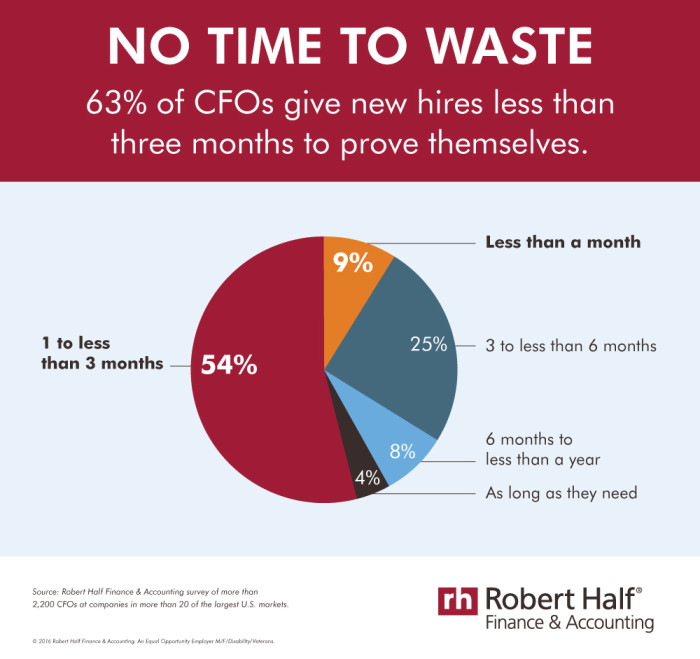 Image: Shutterstock

"Informative, Interactive, Inspiring. The conference brings new ideas and insights about current issues in talent and HR management"
Join the seventh annual Talent Management Asia, Asia's leading HR strategy conference.
Register now for super early-bird savings!