For the 5th consecutive year, HR Distinction awards will again honour the very best in the HR industry. Winning is both an affirmation of the exceptional quality of your work in the industry and among peers. Book your gala dinner table now
Contact us now for more details.
由Randstad Workmonitor進行的季度調查顯示,八成的亞洲區僱員依靠政府(80.9%)和僱主(85.5%)協助年長員工繼續長期受僱。
該項調查在新加坡、馬來西亞、香港等地各進行了至少400次訪問,發現過半數其他地方的僱員也有類同的情況。
值得留意的是,馬來西亞受訪者對政府和僱主的期望為眾多地區中最低,至少七成的僱員認為政府 (76.1%)和僱主(80.8%)應該支援年長人士就業。
支援方式可以是由政府或僱主提供足夠的學習與發展計劃,以確保馬來西亞僱員長期受僱。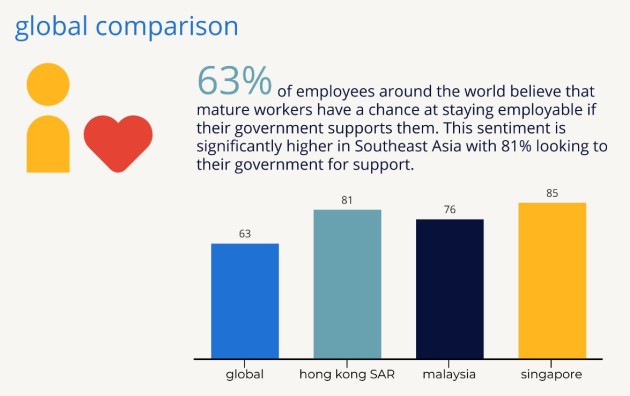 香港的情況與區內其他地方相近,超過八成受訪者認為政府(81.7%)和僱主(85.4%)應該支援年長員工就業。35至54歲的僱員對兩者有更高期望,並覺得他們有責任讓年長員工繼續成為勞動人口。
Randstad香港董事總經理Natellie Sun道:「隨著勞動人口老化,我們需要努力解決與年長僱員相關的社會問題。企業如能營造支援年長僱員的職場環境,將能提升生產力和減低離職率,為企業帶來效益。」

同時,至少八成的新加坡人認為年長僱員只能透過政府(84.7%)和僱主(90.4%)的充足支援,方能繼續受僱。
調查結果顯示,年長僱員深信政府會提供津貼培訓和事業發展計劃,並深信其僱主會提供強大的工作培訓計劃,以確保他們繼續受僱。

圖片來源/Randstad

Human Resources Online is heading to Bangkok with the Accelerate HR conference on November 26-27.
HR leaders from Agoda, DKSH, Fonterra, FWD, Kasikornbank, Minor Food, Nissan Motor and more have already confirmed to speak.
Bring your team for additional group discounts.