Human Resources Online is heading to Bangkok with the Accelerate HR conference on November 26-27.
HR leaders from Agoda, DKSH, Fonterra, FWD, Kasikornbank, Minor Food, Nissan Motor and more have already confirmed to speak.
Bring your team for additional group discounts.
英語中有句說話:「有良好的教養的人,會得到成績優秀的人得不到的機會。(Good manners will open doors that the best education cannot.)」而Accountemps最近的調查亦指出,以禮待人在辦公室無往而不利。
事實上,65%的受訪主管和46%的受訪下屬均表示對同事有禮可以加快升遷。
雖然如此,很多人仍然犯下職場禮儀失誤。受訪主管指出,最常見的無禮行為是遲到或缺席會議(34%),其次是沒有及時回覆電話或電郵(26%),以及在辦公室講人閒話(23%)。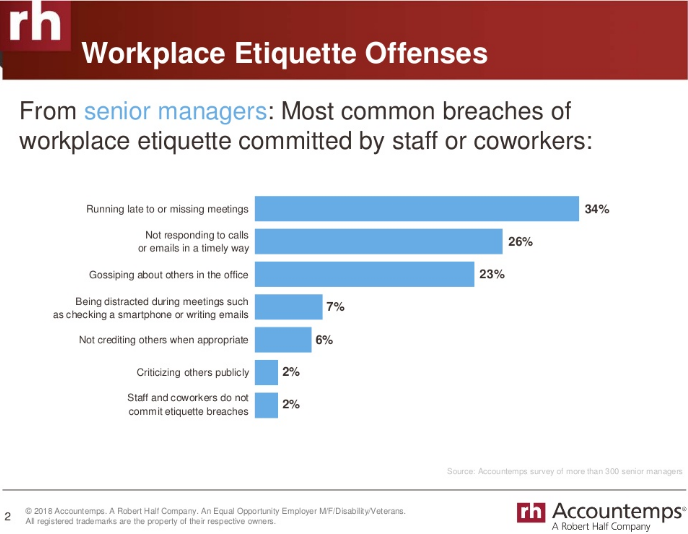 而受訪下屬則表示最常見的無禮行為包括在辦公室講人閒話(24%)、在會議期間分心(18%),以及沒有及時回覆電話或電郵(17%)。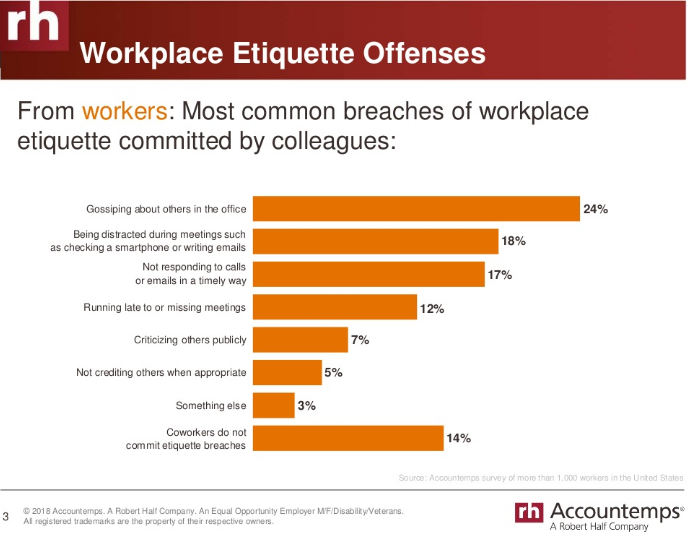 有趣的是,當問到升遷和禮貌程度的關係時,主管和下屬的看法不盡相同。
61%的主管認為專業人員在晉升後會變得更有禮,但48%的下屬則持相反意見,認為人員晉升後禮貌程度反而下降。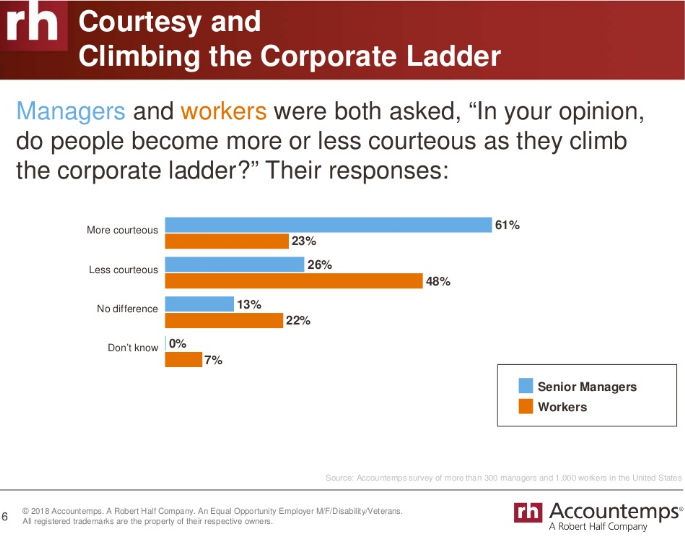 Accountemps執行董事Michael Steinitz表示:「在職業生涯之中,自我管理和待人接物的方式跟你的工作表現同樣重要,因此你做任何行為時都要考慮別人會如何解讀,而且凡事都要互相體諒。」
訊息圖表:Accountemps
For the 5th consecutive year, HR Distinction awards will again honour the very best in the HR industry. Winning is both an affirmation of the exceptional quality of your work in the industry and among peers. Book your gala dinner table now
Contact us now for more details.