Employees in Singapore have typically led the charts for unhappiness and disengagement, so it was a drift away from the trend to find that employees from the nation's tourism and hospitality industry are the most engaged, with a score of 84.29%.
The new survey by EON Consulting & Training, also found that employees in the healthcare industry came second on the engagement rankings, with a score of 82.99%, while employees from the engineering industry rounded up the top three, with a score of 79.92%.
The findings pointed out that the main reasons for employee engagement in the tourism and hospitality industry was "getting along well with colleagues" and "being able to balance personal life with work life."
In the healthcare industry, getting along with supervisors, and gaining their support and recognition was the number one reasons for employees to be engaged.
On the other hand, staff from the engineering sector cited "challenging work" as their top reason to stay engaged at work, pointing to motivation linked with opportunities for them to use and develop their skills.
The survey also ranked employee engagement by generation, with those in Gen Y (between 31–40 years old) being the least engaged, followed by their younger peers aged between 21-30 years. Gen X (between 41-50 years of age) came in next, followed by the Baby Boomers, who made up the most engaged cohort.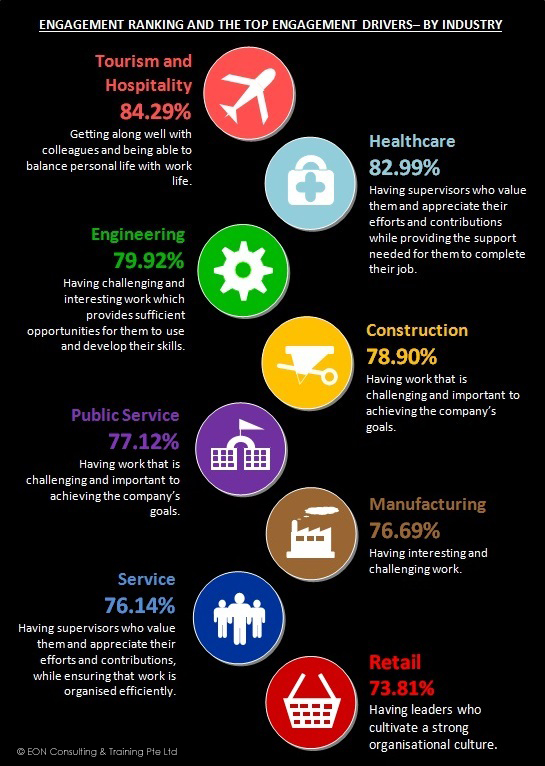 Lead image: Shutterstock

"The Asia Recruitment Award is the oscars of the recruitment industry. A display of the best of the best!"
Start your entries preparation early.
Open to both in-house recruitment & talent acquisition teams and recruitment solution providers.