For the 5th consecutive year, HR Distinction awards will again honour the very best in the HR industry. Winning is both an affirmation of the exceptional quality of your work in the industry and among peers. Book your gala dinner table now
Contact us now for more details.
Digi Telecommunications has announced a new learning program that opens up Coursera to all employees (Digizens) allowing them to access "hundreds of courses from top global universities" via D'Academy, its digital learning platform.
This move is part of a trifecta of L&D investments, i.e. Coursera for expert specialisations; Udacity for tech nanodegrees; and Lynda.com for YouTube style byte-size playlist learning, Animesh Mukherjee, head – HR centre of expertise at Digi Telecommunications told Human Resources.
To find out more, Human Resources reached out to Marcus Lim, digital learning specialist, Digi Telecommunications.
"In order to support our ongoing transition from being a telco company, to a digital services provider, we have to ensure that Digizens have the required skill sets to strengthen the core business and build a foundation for digital," Lim said.
"This comes in line with our belief that Digizens are the key to meeting our ambition to be the customer's favourite partner in digital life in 2020."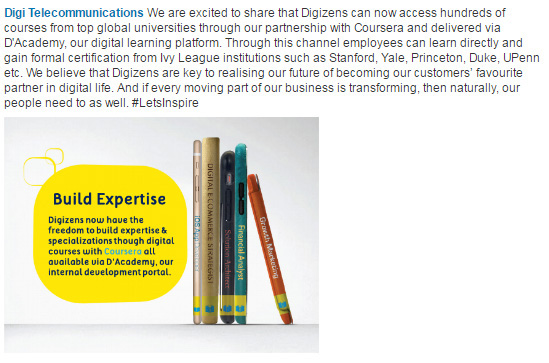 ALSO READ: Q&A with Haroon Bhatti, CHRO at Digi Telecommunications
Digi decided to do so in three steps – orientation, hard skills and expertise.
Under 'orientation', Digi partnered with Lynda.com to guide and develop understanding amongst Digizens on various emerging digital business areas.
When it comes to hard skills, it partnered with Udacity to provide seven different career paths to Digizens by giving them hard skills via Udacity's nano-degree programmes.
Finally, Digi is enabling Digizens to accelerate their learning through expert specialisation programmes in Coursera from top universities such as Stanford, Yale, Princeton, Duke, UPenn etc.
Mukherjee added: "These initiatives are part of a comprehensive and massive investment towards digital learning that looks to help our employees become future-skilled and future proof. The strategy doesn't stop here.
"Over the coming months we will be introducing many other supporting initiatives (e.g. gurus, academies, open projects, etc.) that seek to build an ecosystem where all Digizens believe they truly have the Freedom to Inspire the Next!"
Image: 123RF