Talent Management Asia: Asia's leading HR strategy conference returns for its seventh year.
Unmissable opportunity to attend the go-to conference for HR leaders - debate key talent management challenges and share insights on future people strategy. Register now »
Businesses in China will make leadership a priority in 2016, as presently just half of are operating with a leadership strategy in place.
New research by Hudson, surveying over 150 HR leaders in China, finds nearly seven in 10 companies plan to create a leadership strategy in the first six months of 2016.
While there was no doubt about the importance of leadership to business success (96% agreement), just over half (56%) of firms have a clearly articulated leadership strategy in place.
However, among those without a plan, 67% plan to create one in the next six months.
This reflects leadership as a key focus, with HR leaders saying leadership development was their number two priority for 2016, second only to learning and development.
Laura Shen, director of talent management Hudson in China, noted: "It is encouraging to see so many organisations are addressing their leadership challenges and planning to develop and implement a leadership strategy."
ALSO READ: The number one reason for attrition in China? 50% say compensation
This focus seems to come at the right time, with just 59% of organisations having a competency/capability framework that describes what good leadership looks like.
However, there are gaps in execution, where one in two don't have processes to identify potential leaders, while 44% do not have processes in place to recruit or promote new leaders.
"Investing in the talent an organisation has today to develop them into the leaders needed for tomorrow is more cost effective than bringing in new talent," Shen pointed out.
"This can also send a positive message to existing employees about their potential growth within the organisation, hence increasing their engagement."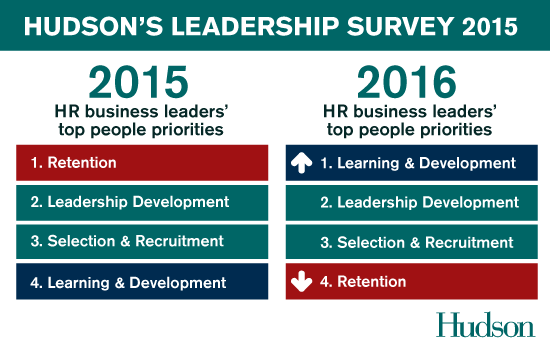 Lead image: Shutterstock

"Informative, Interactive, Inspiring. The conference brings new ideas and insights about current issues in talent and HR management"
Join the seventh annual Talent Management Asia, Asia's leading HR strategy conference. Register now for super early-bird savings!