Like most professionals, I struggle to find time to sneak in a good work out. I'm not a morning person, so runs before work are torture, and I'm honestly too lazy to turn up at yoga after a long day.
Which is why when I found out the benefits of standing up at your desk, I embraced it wholeheartedly and have tried to spend a couple hours a day working while standing.
Also read: Taking a stand for more creative employees
But now, things have been taken to a whole new level, thanks to San Francisco-based artist Robb Godshaw and developer Will Doenlen, the masterminds behind the Hamster Wheel Standing Desk – an alternative for those of you who crave a small workout at work while looking pretty darn cool (or, you know, like a hamster.)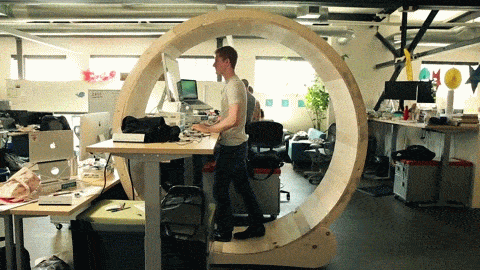 "The issues with treadmills are that you don't set your own pace, and they're not interesting as furniture," Godshaw told The Huffington Post.
What's even better is the designers have made the building instructions available online, so anyone can build their own. (Friday afternoon project, anyone?)
However, the hamster wheel desk isn't something to be taken lightly.
"We considered adding in brakes but decided against it in order to really force the productivity out of the desk user," the designers wrote on Instructables. While this might cause some to approach the wheel with caution, we say it just adds another element of excitement to another routine day at the office.
Watch a time lapse video of a wheel being constructed below:
Images: YouTube