For the 5th consecutive year, HR Distinction awards will again honour the very best in the HR industry. Winning is both an affirmation of the exceptional quality of your work in the industry and among peers. Submit your entries now!
Contact us now for more details.
Malaysia may be topping the charts for how gender diverse its boardrooms are, but it looks like room for improvement still exists when it comes to closing the entire spectrum of gender gaps in the country.
According to The Global Gender Gap Index by the World Economic Forum, the nation ranked 111th out of 145 countries this year, falling four places from 2014.
The Index benchmarked national gender gaps on economic, political, education and health criteria, and provided country rankings that allow for effective comparisons across regions and income groups.
Malaysia garnered an overall index of 0.655 out of 1.
While it fared well in the economic participation and opportunity category (coming in at 95th place), it ranked poorly in the political empowerment category, only securing 134th position globally.
The report noted more, in fact, could be done to improve the gender gap levels globally.
"The slow pace of progress in bridging the gap in economic opportunity between women and men means that women are only now earning the amount men did in 2006, the year that the Global Gender Gap was first produced," the report stated.
"Extrapolating this trajectory suggests that it will take the world another 118 years – or until 2133 – to close the economic gap entirely."
ALSO READ: The workplace gender gap won't close until 2095
With no one country having closed its overall gender gap, Nordic nations remained the most gender-equal societies in the world.
As last year, the leading four nations are Iceland (1), Norway (2), Finland (3) and Sweden (4) – with Norway overtaking Finland. Denmark (14) and Belgium (19) slipped out of the top ten while Ireland (5) gained three places.
In Asia and the Pacific, the Philippines (7) remained the region's highest-ranked country, followed by New Zealand (10) and Australia (36).
"These nations are regional outliers as no other nation from the region is part of the top 50," the report stated.
Lao PDR (52), Singapore (54) and Mongolia (56) came next.
China's (91) overall score and rank slightly decreased due to a further drop in the sex ratio at birth. Indonesia (92), Japan (101) and India (108) have all improved compared to last year on their overall score despite some losses in their economic scores.
Korea Republic (115) gained two places this year due to an increase in the Economic pillar.
The lowest performing countries from the region were Fiji (121), Iran (141) and Pakistan (144).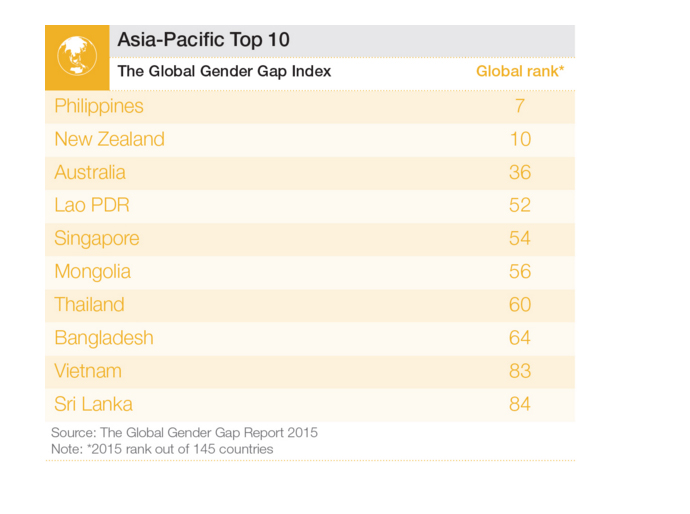 Image: Shutterstock