"Informative, Interactive, Inspiring. The conference brings new ideas and insights about current issues in talent and HR management"
Join the seventh annual Talent Management Asia, Asia's leading HR strategy conference. Register now for super early-bird savings!
Despite there being almost 3 million more female Millennials with appropriate qualifications than their male counterparts, more men are employed in the hottest occupations for this generation.
A report by Young Invincibles pointed out the top 25 jobs for Millennials this year.
13 out of the 25 jobs listed were in STEM (science, technology, engineering and math) fields, with another five in medical fields.
In four out of the top five jobs, however, the report found a gender gap – with men dominating the workforce over women.
ALSO READ:
2015's top jobs for Millennials
The workplace gender gap won't close until 2095
Why female Millennials dislike working in the financial services sector
These included actuaries (26% growth by 2022, median income of US$93,680), and statisticians (27% growth by 2022, median income of US$75,560).
Biomedical engineers (27% growth by 2022, median income of US$86,690) also echoed this trend, followed by computer and information research scientists (15% growth by 2022, median income of US$102,190).
Thankfully, the top job – physician's assistants (38% growth by 2022 and median income of US$90,930) – had females consisting of more than 70% of their workforce.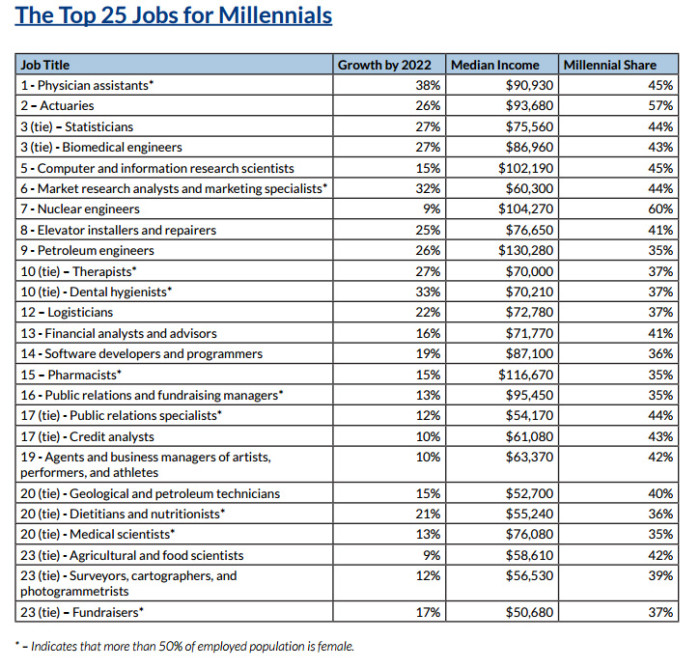 Image: Shutterstock