Talent Management Asia: Asia's leading HR strategy conference returns for its seventh year.
Unmissable opportunity to attend the go-to conference for HR leaders - debate key talent management challenges and share insights on future people strategy. Register now »
Welcome to Asia Recruitment Awards 2018, Malaysia!
We're here at the The Westin Kuala Lumpur, Malaysia getting set up for tonight's exciting awards show.
Proudly brought to you by Human Resources magazine, the Asia Recruitment Awards is one of Asia's largest award shows dedicated to celebrating your team's talent acquisition achievements. Get ready for a night of celebration among those leading the field of recruitment with programmes that attract exemplary talent.
For live updates of the award winners, stay tuned to http://bit.ly/ARAMY2018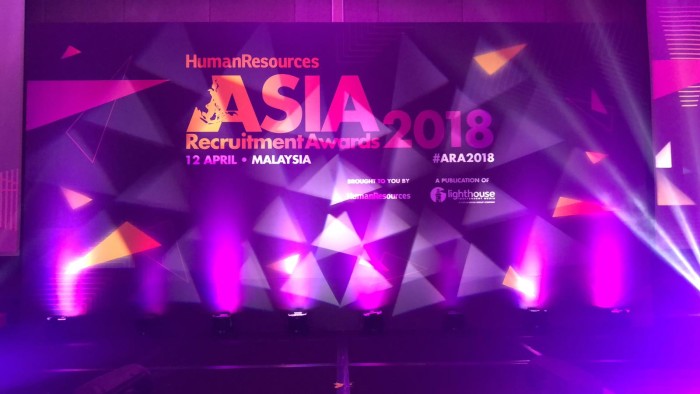 ---
Winners: Segment 4 [bronze appears first, followed by silver and gold]
Best Regional Recruitment Programme
TMF Group
Maybank
Lumileds Malaysia
Best Job Portal By A Recruitment Solution Provider
A Job Thing
Best Use Of Digital Media
RHB Banking Group
Affin Hwang Capital
Dell
Recruitment Agency Of The Year
Redradar International
Monroe Consulting Group
VHR Consultancy
In-house Recruitment Team Of The Year
Standard Chartered Bank
RHB Banking Group
Dell
Asia Recruitment Grand Winner 2018 – Recruitment Solution Provider
VHR Consultancy
Asia Recruitment Grand Winner 2018 – Corporate HR Team
Maybank
---
Winners: Segment 3 [bronze appears first, followed by silver and gold]
Best Candidate Experience By A Corporate HR Team
RHB Banking Group
Great Eastern Life Assurance (Malaysia)
Maybank
Best Client Service By A Recruitment Solution Provider
Spring Professional Malaysia
Monroe Consulting Group
VHR Consultancy
Best Recruitment Innovation By A Corporate HR Team
Lumileds Malaysia
Maybank
AXA Affin General Insurance
Best Onboarding Experience
Alcon
Great Eastern Life Assurance (Malaysia)
Motorola Solutions Malaysia
Best Recruitment Evaluation Technique
AXA Affin General Insurance
Mah Sing Group
DKSH Malaysia
Best Recruitment Programme For Non-Degree Holders
Golden Screen Cinemas
Antah Schindler
Affin Bank
Best Candidate Experience By A Recruitment Solution Provider
Monroe Consulting Group
---
Winners: Segment 2 [bronze appears first, followed by silver and gold]
In-house Recruitment Professional Of The Year
Filzah Ruzamil, TMF Group
Vila Rajah, DRB-HICOM
Phang Siew Khee, Motorola Solutions Malaysia
Best Utilisation Of Spatial Awareness
RHB Banking Group
Motorola Solutions Malaysia
Mah Sing Group
Best Employer Branding
Human Resources Development Fund (HRDF)
Alcon
Maybank
Best Career Website By A Corporate HR Team
Royal Selangor International
Eupe Corporation
Dutch Lady Milk Industries
Best Recruitment Innovation By A Recruitment Solution Provider
Randstad Malaysia
Spring Professional Malaysia
QuessGlobal Malaysia
Best Diversity & Inclusion Strategy
AXA Affin General Insurance
Maybank
Dell
---
Winners: Segment 1 [bronze appears first, followed by silver and gold]
Best Recruitment Advertising Strategy
Intel Malaysia
Osram Opto
Maybank
Best New Recruitment Agency
Quess Global Malaysia
Monroe Consulting Group
Agensi Pekerjaan VHR Consultancy
Best Graduate Recruitment Programme
Hong Leong Bank
Unilever Malaysia
Maybank
Recruitment Consultant Of The Year
Low Fang Kai, Agensi Pekerjaan VHR Consultancy
Best Staff Referral Programme
Osram Opto
Dell
BT
Best Use Of Recruitment Technology
Shell Malaysia
Mah Sing Group
TMF Group