How do you know if your #learning is relevant for the #future?
Find out at the region's largest conference for HR and L&D practitioners, Learning & Development Asia, happening in September.
Register for early-bird savings now.
Singapore has the seventh highest expatriate pay packages in Asia Pacific, thanks to expensive elements such as housing and education grants.
According to a survey by ECA International, the typical total expatriate package for middle managers in Singapore is US$259,000 – higher than last year.
The survey, which analysed 320 companies in total, looked at pay levels for expatriates around the world, including information on benefits, allowances, salary calculation methods and tax treatment.
"The cost of providing certain benefits such as housing and education is the most expensive element of the pay package when relocating staff to Singapore. Remove these and Singapore falls from 7th to 14th in the regional ranking thanks, too, to low tax rates," said Lee Quane, regional director – Asia, ECA International.
Expatriate packages in Singapore were, however still lower than in Hong Kong, which was ranked 5th in the survey.
ALSO READ: Singapore is best destination in Asia for expatriates
Japan was identified as home to Asia's highest expatriate packages. On average, a package for an expatriate middle manager there was worth US$375,000.
Countries such as Australia, China and India followed respectively. Malaysia was the second lowest expatriate packages in the list – one spot below Thailand.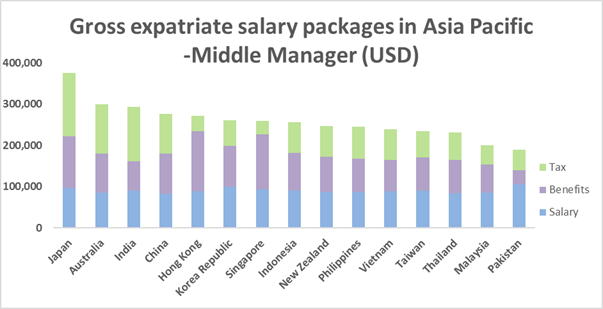 Image: Shutterstock
For the 5th consecutive year, HR Distinction awards will again honour the very best in the HR industry. Winning is both an affirmation of the exceptional quality of your work in the industry and among peers. Submit your entries now!
Contact us now for more details.